Hello everyone and welcome to another chapter of my weekly thoughts about the 20th Season of Survivor, Survivor Heroes vs Villains. This episode contained two important things. First things first it was a merge episode. The Heroes Camp and The Villains Camp have merged into one and now call themselves Yin Yang or Good vs Evil. How appropo a name. As the episode progresses we see that it is still split down the middle and is still, even though they reside on the same island, a tribe of Heroes vs a tribe of Villains. Secondly it established the true mastermind of the camp and the Villains Tribe...Parvati herself.
Several questions were looming as this episode wove it's way through space, video and cyberland of several aspects. Who will gain the necessary foothold to gain the control over on the Yin Yang Island? Would it be the Villains led by a very cunning Parvati with her ally and main conspirator, Russell? Or would it be the Heroes who gain momentum as one tribe, though in reality the tribe is not fully in one accord. Since Day 1 the Heroes have never been fully on the same page. So would they work something major to maintain the Fantastic 5 moniker Rupert had placed on them to spare JT, who's bromantic risk of last episode had landed him fully in the fire by giving the OPPOSING tribe not only an idol but game strategy as well! JT really, what were you thinking? That they would do what you asked them to do? Really JT....
Watching the play involved from a gamer point of view. Of the Heroes the only one who seemed to have his head on straight and was actually thinking smart was....RUPERT! He first listened to Russell and listened clearly to Russell and what he stated. Then when Sandra of the Villains side approached her former Pearl Islands tribe mate with some information about the actual dynamics of the Villains side, which by the way is a very smart thing to do at merge as by sharing the dynamics with someone you know you will work with at some point, will in effect help them trust you down the line to also share dynamics and strategy. If you are looking at options, it most likely will open up those options for you. If instead you are fishing for information to share with your tribe...even better strategy as that will reveal a pecking order and can help a tribe decide who would be the better of the people to target at merge. So smart game Sandra! Rupert was smart as well and LISTENED! Unlike JT who definitely had his head up his back side (politely speaking) and chose to trust Russell when he shouldn't. He sealed his own death warrant in the game by being so stubbon minded. Or as a cliche goes, having tunnel vision.
Amanda and Parvati had their moment also on the beach. Plain and simple Amanda got found out. One of the fans on one of the awesome Fan Blogs stated they definitely wanted to play poker with Amanda. Make that two of us. She was so transparent. Her body language, her evasiveness all said that she was not being on the up and up with Parvati. Parvati already felt singled out and had said so to Danielle. Of course when you already feel that way, then a former ally is in effect trying to lead you to think differently..that would send out alarms! Immediately Parvati knew she had to hatch a plan and the plan would be to keep her tribe intact which she would play and play so effectively. Amanda, I do wish girl that you had a better poker face! Most likely you are now the next target of the Villains as you have effectively crossed Parvati and unless Parvati is singled out by Russell for "not trusting him" (Russell's game m.o) I am going out on a limb to think she may be the next Hero fallen. In reality, it is Parvati and not Russell that is in charge of the Villains side.
I do genuinely feel that Russell will not get his way next episode though on targeting Parvati, if he does attempt it. What common sense I do have states that who would pllay a hand in voting off someone who gives them immunity? Parvati made sure ALL of her tribe was secure and GAVE 2 of them immunity and stepped down for the other to get it! Plus by allowing the Heroes to think she and Russell were playing the idols instead, their assumptions allowed also Russell and Parvati to be spared by their decision to vote for Jerri.
Parvati strategical wise made a bold and decisive move. Plus she also did it so well that even Russell was not aware of the move. This to me shows where the power rests and it does not rest with Russell. As Parvati has him right where she wants him. Plus she has the tribe there also.
In thinking this through I have some questions I have not seen asked fully yet and am gonna present them.
First off how sure is everyone that Sandra WILL flip?
I am thinking that if Sandra really is helping the Heroes end, I am wondering if she in her little eavesdropping way, did not find out about the second idol? Sandra is like that nosy neighbor who stands at the window all day waiting to catch something on the neighbors. She eavesdropped on a chat at the beginning of the episode so I am curious about a probability of whether she may have somehow known. Sandra is more smarter than people give her credit for. She has keen instincts I think and knows when to seize an opportunity.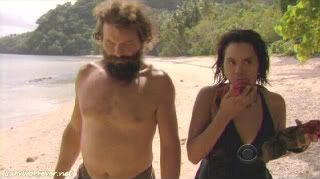 I like to play along also with the cast and another thought process I am mulling on is ...could there be a probability that Sandra, who is known by her if it don't get me targeted strategy, and in doing this strategy she sways back and forth between alliances. Is it possible that she could be used as an information gatherer for Parvati and Russell? A mole? If so, this places her for now in a very important role. Probable. It fits her imo.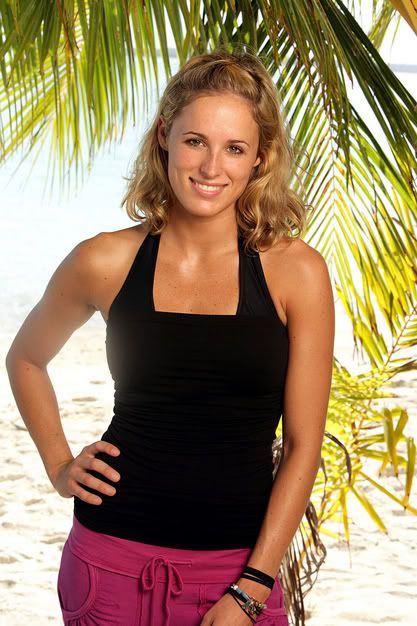 Candice stepping down at Immunity? I hear everyone saying bad move. As a gamer, I disagree. Candice is not a dumb cookie. She knows that Parvati has an idol or possibly two idols. Imo any thinking person would know that Parvati is gonna step down to spare Danielle. By her stepping down to let them "battle it out" and the fact that by her stepping down to allow the complete tribal security to play itself out...she should have a "favor" that is available to her somewhere down the line. If she is indeed looking for options..her choice to step down was in reality a strategical choice and for her entire game.. which is not a bad move. It gets her further in actually. As she can by this choice work to curry favor. Possibly for her and another Hero for later. It is now an individual game and Candice imo, has already started weaving her way through it. Albeit with the Villains....
Some brief cameo mentions from the episode.
What is it with Rupert and the bananas? Make that the Heroes in general with bananas? remember the banana etiquette? Well, it has reared it's ugly head again. Banana Etiquette 101 from Emily Post (for those of you who have no clue who she is, she was or is a well known etiquette advice columnist) should be the merge preferred reading lol.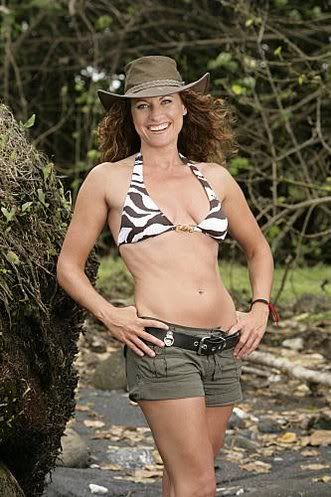 Jerri you said it straight hunny, EVERYONE here is a Villain. Not one person there has any type of play that would fall into a Heroic category. It's all cut throat and murky waters. Which basically is the heart of the game of Survivor.
I asked Coach Wade a few days ago his thoughts on this next episode and he said "They all suck and no one plays with integrity! What a fiasco" sounds like what Jerri said about everyone is a Villain there. Rupert begged to disagree but Rupert, she's right. You found out at Tribal this certainty! Face it, everyone is a Villain!
In the end, a line was drawn and in the end thanks to the bold move by Parvati, the Villains and Jerri not only were spared by gained important game momentum. Her move did many things..it spared her tribe. It boldly displayed that SHE is in charge and not Russell. It got JT voted off for a stupid, idiotic move. It also bonded several people to her. This could well be a game winning move on her part, since we still have a ways to go still, it is still not a proven fact that it may be. But it has if anything solidified her position pretty solid in the game and amongst her tribe. Plus as well to the Heroes side. We may even see a few Heroes flip over possibly and I suspect Candice may well be one.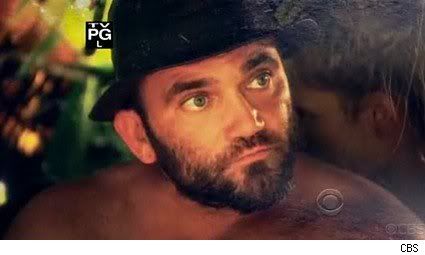 Whether Russell wants to be all ego and attempt to take his Queen on next week, we shall see. If he does, he will be outnumbered. If Amanda has made herself a target by being so readable is still a possibility..again we shall see. However Amanda has yet to bring her "A" game to this season. If Sandra decided to flip is still a possibility, but in reality I don't think she truly will. If I have her game figured somewhat out, she will use her ability to float and go back and forth. Being the nosy neighbor who gathers info to use. So in the coming weeks..the main people to watch moves wise are Parvati, Sandra and Candice. It should make for interesting and fun viewing!
Until next week enjoy the Season and keep the torch lights burning!
Brenda
Please read my weekly reviews at:
http://www.myspace.com/poeticangst
http://brendassurvivorblog.blogspot.com