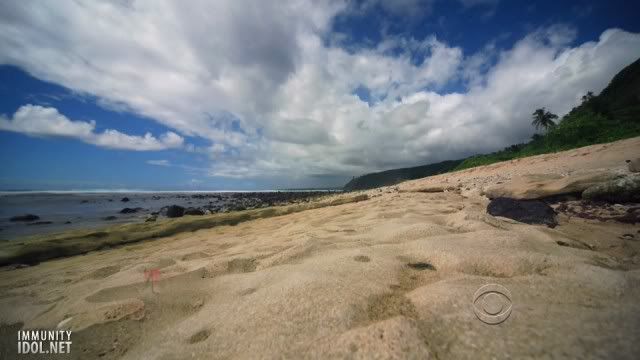 bromance (bro-mance) (n.)
1."Non-sexual relationship between two men"
2.JT writing Russell a letter and practically falling over himself during two challenges trying to get Russell's attention. Now mind you the bromance is more on JT's end than on Russell's. lol
JT what are you a bonehead? The one phrase that easily comes to mind is dum da dum dum! Dum da dum dum dummmmmbbbbb!!!!! After last night I feel Erik Reichenbach from Season 16 will have a neighbor alongside of him in the Survivor Hall of Shame. Plus if appearances are decieving, does it appear that the Heroes (or a few of them-the guys) Say it ain't so. Colby!!! Are they really going for this? Kudos to the girls for thinking it was stupid.
Candice actually sighed.
No way!! I am stunned thinking that these guys actually think this may work. Well it may..in a roundabout way if a theory a friend of mine, Adam Basham (see Fan Blog) shared with me happens. But it would mean Russell getting full of himself and thinking he should save Parvati by giving her the idol JT has given him. Don't know if Russell may chance that again as this time there are so many unknown variables. Like will Sandra flip over and vote with the Heroes 5 for the ultimate blindside of all time? Or will Sandra realize that to stay in the game she should stick with the people she came to the dance with and not chance flipping? Or could she realize that by chancing a true flip and pulling a move off like this, that she can not only take out the meanest player in the game and solidify herself a shot at the brass ring with a totally different group of people, but she might actually pull the win off! So many probabilities and theoretically it is possible.
To pull this off, she would need to play on Russell's need to want JT out by saying "dude I am down! I am just talking to these guys to get info to use against them. I will go with whatever you guys decide" and making him think she is with them.To the Heroes side, all she would need do is tell them the dynamics. Once she gets their trust all they would need do is play Russell and have him think they are voting for Parvati. That they think there is a women's alliance and that they want to spare him. All the while the Heroes want Russell gone. As long as Russell uses the HII on Parv, and Parv does not reveal hers..it might work.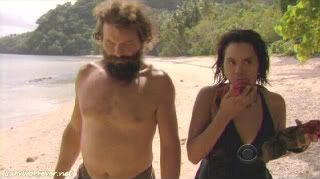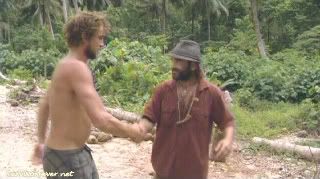 I have no doubt Sandra can do it..the woman has the means. But will she? If so, we may see Sandra actually masterminding a huge play? It's a working theory and who knows? As crazy as some of these Tribals have been this season it might work. It would take a lot of work on behalf of Sandra to pull it off. But unless that scenario were to happen, it is almost a given that we may see JT going home in repayment for his bromantic risk.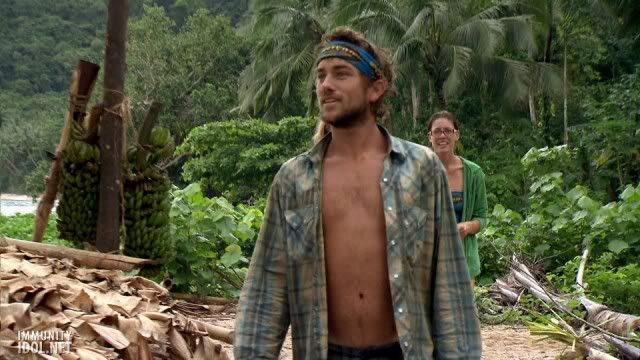 Now to my reaction last night. I gotta admit I found the whole thing funny. It was so corny seeing JT writing the letter then GIVING it to an amazed Russell. Russell has a way with obtaining idols and it makes me wonder that if JT had been aware of Russell's idol gathering on Samoa, would he have reconsidered that option. But seriously, JT, what were you thinking bro? Seriously? You don't give an idol away pre-merge to the enemy for one. Secondly, you all do not know the dynamics. Thirdly you do not even know Russell and how do you know you can trust him? Dude, anyone will say whatever they are gonna say to get that. You don't know him! You see him for what a few hours during a challenge. That does not mean you know him well enough to give away security. Dude, unless something major happens such as Sandra flipping and pulling off the above scenario, you just snuffed your torch!
Watching this season, it is painfully obvious that during Tocantins, Stephen was the better of the two players. Stephen has his head grounded and would not be so dumb. Plus you wrote a letter?!? Dude, a letter?1? Something tangible that people can read and you tell Russell to dispose of it? Are you serious?
The letter though was to me humorous. Sad but humorous. Parvati pegged it with the xoxo. It sounded like something juvenile and hence bromantic. It reminded me of something I would write in high school. Dude, I was rofl. It was just priceless. Game wise, though, if the dynamics were different and it was merge already and you actually had talked at length to the person and gauged them..it would not be a bad move. BUT we are talking a:Russell b: you don't know dynamics c: borrow Coach's logic: trust no one ..especially Russell! BTW Coach great kimono!! Let's hope our theory is a probability but if not, JT welcome to the Survivor Hall of Shame!
Some thoughts to discuss for comments:
1. Could instead though the heroes actually be setting up JT as they don't trust him and they are playing HIM? Never know.
2. Why do you think the Hidden Immunity Idols (HII) are so readily accessible this season? Scary thought..what if Russell got the napkin clue instead of Parvati? Two idols folks..scary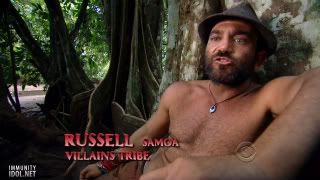 3. Who do you think is in charge-Russell or Parvati?
4. Do you think Sandra WILL flip?
5. Who do you think was the star of this past episode and why?
Until next week..enjoy the season and remember to keep the torch lights burning and stay alive!
Brenda
Please read my weekly reviews at:
http://www.myspace.com/poeticangst
http://brendassurvivorblog.blogspot.com
Photos courtesy of immunityidol.net
survivorfever.net