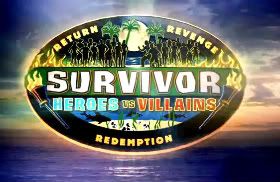 Another week of Survivor Heroes vs Villains is in the can and for the most part the episode this week was great! Of everything on this episode what held my attention and kept me fascinated was the Tribal Council where Danielle was voted off.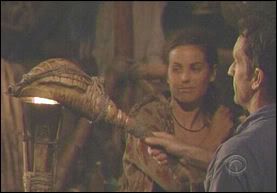 Talk about a merry go round of stuff to explore in reactions. You have Danielle crying while Coach on the jury says "Boo Hoo!" to fellow jury member JT. You have Russell weaving his yarn while Courtney shrugs her shoulders up in "huh?" you had Jerri's famous "uh...what????" expression throughout the Danielle/Russell disagreement. I think that expression was maybe my favorite expression out of it all.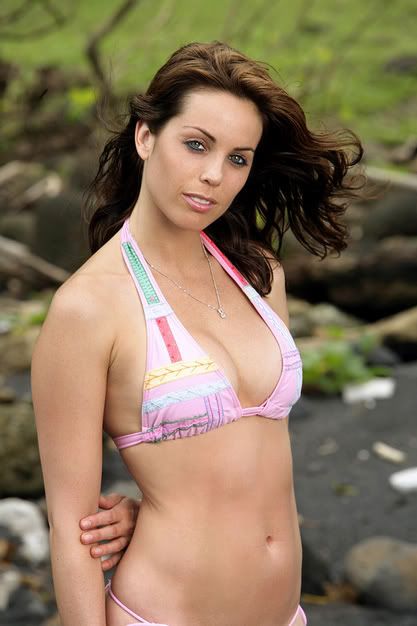 Sitting there watching that I kept thinking "shut up Danielle!" you are digging your grave Danielle. Noticeable points when she said she was closer to Parvati than anyone knew....Danielle, unless you seriously want your name written down, don't say that please. Seriously the numbers are low. You have 2 Heroes who wanna pounce and unfortunately Russell is safe for this TC :( So they are thinking one of them guys and not me. Plus when you even hint at a "bond" alliance or unbreakable one..people vote but not in your favor. I am glad she outed Russell. Did you notice both Parvati and Danielle outed Russell? I also read today an interview where Danielle said if she would have stayed that Russell would have been next. She, Sandra and Parvati would have done so.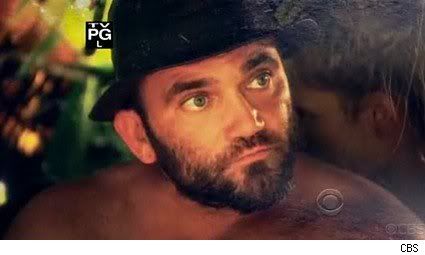 Personally I can see Danielle, out of loyalty to Parvati, voting Russell. I can not see Parvati or Sandra doing it though. Parvati is too much of a gamer and she knows she can control (when she wants to) him plus beat him in the end. Sandra, I have noticed votes only where the power lies for that TC. I noticed that this past episode in how she voted. Russell may have gotten Danielle, Rupert and Colby via votes (that is IF he didn't promise a male alliance to the guys ugh....) so that would be 3-3 or if the guys stuck with Russell (male alliance) 5-1.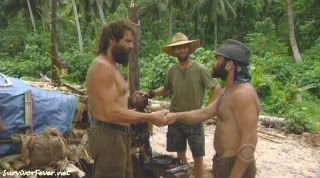 So I don't think Sandra or Parvati would have stuck with the plan. Not that I wouldn't love to see him go, trust me I would love to see him go! Except I am fairly certain Parvati will stick with Russell and Sandra takes the heed of whomever is the strongest that vote. So I think Danielle would have possibly gone next if that would have been the plan.
Speaking of Sandra. Kudos on getting the HII!! In having it, this means she is safe until at the most, Final 4. What I liked about Sandra this episode was she knew not to out Rupert about actual possession. As in doing so, she would hurt Rupert true, but she would also show she is the one in possession. Sandra may be weak at the challenges, but she is pretty smart or street smart in the game. If she isn't people watching or knowing when to gauge how to vote via power shifts, she is gaining an idol (AND keeping it out of the hands of Russell!) Next week she tells Russell "I am against you Russell!" atta girl!
Now my response to my co blogger, Antanas. Antanas, we do agree on several things. Sandra being a threat and Russell messing up some.
But as always Russell winning is not one of them.
He has the abilities to play a decent game. But social skills are lacking.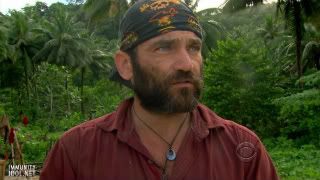 To play a competent game of Survivor and be able to win it, your social game needs to be as great as your strategical brain. Russell has little to no true people skills in my opinion, in the game.
He can weave hypnotic spells and lure people in, but once they try to play THEIR game, he gets in their faces and does his m.o. of "you are against me".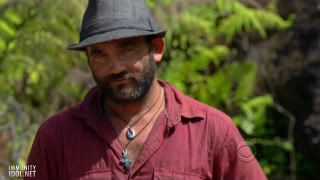 With what he has done to Coach Wade set him up and tossed a dummy vote of honor so as to curry favor and win a vote from him, maybe..which Coach caught on to, that's one vote for someone else. JT said at the Ponderosa recently that he had no idea how nasty a game Russell played..and Russell screwed him over so ..tally so far 2 votes Russell doesn't get.. Courtney is loyal to Boston Rob and that's one less vote for Russell. If Parvati is with Russell in F2, I am sure Amanda will vote for her and not Russell. Danielle-after last TC...I seriously doubt she will also vote for Russell. So tally so far is zero. If he gets Rupert and Colby into a male allaince and then turns on either, that is 2 less votes. So it doesn't look too good for him right now and it is all due to his social game. He may know how to play Survivor strategically, but socially he needs to work on it some more. This is why he will not win.
I was sad to see Candice go but honestly saw it coming sadly enough. Probst said it so well when he said it is a mistake to break trust to build trust. Survivor, tho people say they don't trust people in the game..actually there has to be some fascimile of trust to some degree. Maybe not bona fide pure trust but trust to some degree. If you realize you are out here as a group and have to help one another survive, that can be a trust builder to some extent and it bonds people. So believe it or not there has to be some trust in a tribe. To go against that bond is not something that can easily be mended back. I am amazed Candice was surprised though and I am even more amazed visions of Cook Islands past didn't come to mind with the Mutiny. Candice though was the underdog from day 1 though and fought a pretty gritty fight. Her main mistakes flipping to Russell and stepping down again from a challenge to allow the Villains game power. That 's two challenges she did that. This time the decision bit her.
Questions To Discuss:
1.Do you think the reason Russell wants to lure in Rupert and Colby is because he is afraid he is gonna be targeted?
2.Whom do you feel are the star(s) of this episode? Why so?
3. Gauging at who is there now, whom do you feel will be in the Final 2 or 3? No spoilers please but reasoning. Thanks!
4. Who do YOU think has the power now?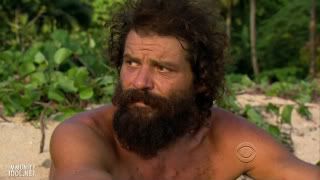 Until next episode please remember to keep the torch fires burning and enjoy chatting Survivor!
http://www.myspace.com/poeticangst
http://brendassurvivorblog.blogspot.com
(I need followers there please and thanks!)