Recently I had a chance to attend my very first reality related event! It was called Celebration Give Kids A Chance and was held in a small little village called Celebration, just outside of Orlando, Florida!
The offer to attend the event came in June I believe and came from Steven Pickett and Debra Del Vecchio Marsh, two great friends of mine.
Steven Pickett and Tom Marsh gave me a ride from my home to the hotel the event was being held at which was the Mona Lisa Suites. We get there and go in and find out someone had called the event people and ave them this story that Steven had been injured and canceled his voucher. The story given was pretty elaborate and crazy. I almost didn't get in! Steven appealed to the lady who was giving the info to him as they had this table set up in the lobby and were passing out wrist bands to all VIP Party attendees. You either had to be a guest of a VIP member or a VIP member to get one of these wristbands.
It didn't look good for a sec. But Steven I think spoke to Michael Nunez, the coordinator Steven told him, "look this is Brenda Porter. This is her first event. She came all this way to attend and there are some people in there who want to meet this girl. " He came down and said come on up!
Over to my left walking towards the stairs I met longtime friend April Mueller who was talking to Debra Del Vecchio Marsh. We all hug! I met Wipa Watson in this time frame also. Then as I am fixing to head up...SARGE comes walking up and hugs me hard! I literally start crying! lol He hands me a signed 8x10 he had prepared and we hug again and take a picture! Sarge was my very first cast member I ever met! :)
Sarge would end up being a large part in making the event amazing for me. He welcomed me. He also during the luau kept checking on me to see if I was okay. I wasn't used to drinking a lot anymore and on Friday had downed a Long Island Ice Tea, 3 Pina Coladas and I lost count of the beers by the pool afterwards with Debra, April, Stephen Arena, Darrell Wolcott, Melissa Alessi, Vickie Vallence, Keith Mueller, and briefly Stephen Fishbach, Sarge, Cao Boi (who came out a few times and during one of the times handed me a signed 8x10 he had been carrying in his back pack to sendme for months!) and briefly Cindy Komora and Wipa Watson. Todd Herzog, Courtney Yates, Troy Maynard sat nearby for a time also. We also were serenaded by I believe, Russell Hantz's cousin Paulina or was it Pauletta? All I know is she has a beautiful voice. We sang "I Will Remember You" by Sarah McLaughlin. Good vibes. Great people. LOTS OF BEER and cigarettes being shared and passed around. It was HEAVENLY! :)
When I first walked up I met Denna Benna, who played on the same cast as I did on
Survivor MySpace 8
. Denna is a pretty cool chick and took a lot of pictures of me with cast and some of my fave shots she took were:
AMAZING!!!
I met two of the coolest and nicest cast members Tanya Vance (Thailand) Spencer Duhm (Tocantins)
I got to stand by the bar and talked to Tanya, Michael Skupin and Sarge for quite some time. We talked about all star seasons and projects and stuff. No spoilers really folks. Just talk about ideas. Tanya told me how sheh ad met her husband. She met him at the event a year before. She was on her way to the event and happened to meet him enroute. She was attracted and never looked back. They married a few months ago and are very happy.
While at the bar I met Russell Hantz the "KING" of Survivor or this is how he signs his autographs lol and I met Richard Hatch. The infamous naked first winner ever of the show! I spoke more with Russell than Hatch who was being mobbed. Russell spent most of his time at the bar with his cousin Pauline and her two friends than upstairs. I asked was he really retiring from the show and he said yes he was. He mentioned going on Dancing With The Stars. Having talked to some people though, I have found out that his chances being cast to this show DWTS is very slim. ABC mostly cross-casts reality stars internally.
I FINALLY got to meet Billy Garcia who I have been doing Fan Stuff for over the past couple of years. Nice guy and very charming and charasmatic. I was so amazed at metinghim I had a mental block..a first lol U rock Billy!!!!
I had a great time also talking to Natalie White. I met her in the lobby. She knew me as I did admin work on her Facebook Fan Page. We talked about nasty fans, how she had been touring since the show ended with Russell in various places. How she was grateful for having done the show. How she was so happy to meet all kinds of people who watch the show and how she is still close to the cast of her season. Natalie is an amazing woman and between the VIP Party and the luau on Saturday night, I probably spoke with her about 45 minutes.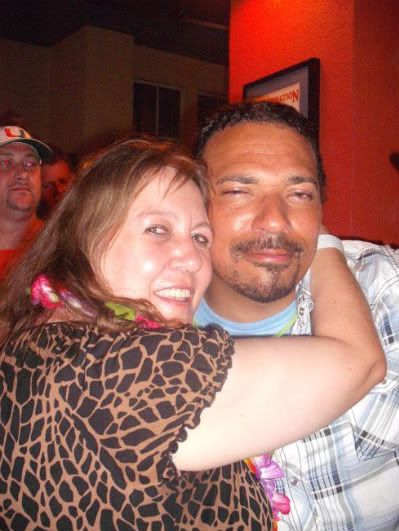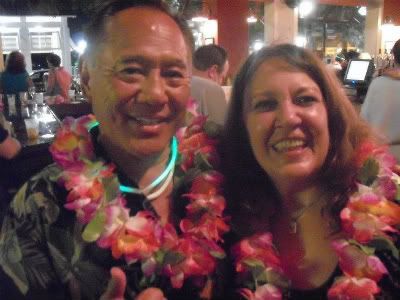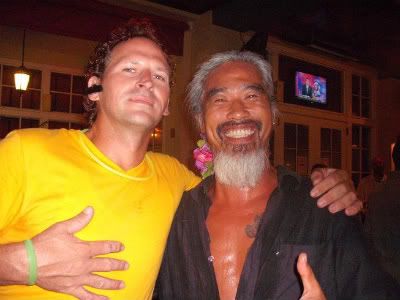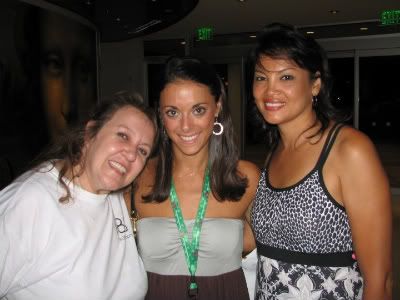 Throughout the night I met so much cast. Brief chats with Todd Herzog who was desperate to find a bathroom. He wrote on my autograph "Finally!" I also met briefly Ace Gordon..I told him I enjoyed his accent and he said "thank you". I met Eliza. Truly a sweety! We talked about how cool that it was my first event and she welcomed me. I asked if she would add me to her Facebook and she said "let me find you" She did and added me a couple days after the event :) I met Jerri near the bar as she mostly hung with Dan Gheesling there and a few others. I asked about Coach and she said "he's a friend" lol Very low key and quite a nice lady. I met Courtney, Stephen and Erinn as they signed in. Erinn was rather friendly as was Courtney. I talked to Stephen more by t he pool which was a short convo. He was there just briefly and asked me about 180 Film I am thinking Stephen knows I blog it :) I met Yau Man...very cool guy! I met Dan Ghessling (BB10) when I met Jerri. He was a bit drunk but very cool :)
I probably spent the most time that night with James Miller, Sarge, Michael Skupin, Tanya Vance, Cao Boi, Natalie White, Eric Stein. With Cao Boi we talked about being part Lumbee Indian (we share a tribe) about his Fan Page on Facebook "Eat More Rice" because through it he is trying to raise money to aid hunger. He spoke of loving being free and no limitations and when I said I felt a bond with him, he said "that's beautiful!" The next afternoon at the pool he dared me to jump in naked as I said I didn't have a swim suit! lol Ummmmmmm........no thanks. Love u Cao Boi! :))))))))) I did go up and borrow Debra's suit but by then he was going upstairs.
By the pool I FINALLY met Bobby Mason and also met Sandra Diaz Twine. Bobby and i greeted each other and spoke of awesomeness and hugs galore! Got my hug!!! With Sandra I was being approached as she was asking me if I was going to the autograph signing so I apologize Sandra if I was cut off. :( I got to though meet her later at the luau. She was there with her family. We spoke of purple dresses and pens lol
At the luau I met Carolina Eastwood and her dad
I met Eric Sanchez again and some of my fave photos were taken with him, Jerri and Mikey B (Michael Bortone of Season 16)Thanks Mikey B for the beer!
At the luau I got to meet Alexis Jones (Season 16) Gillian Larson of Gabon who I turned to when I was nervous at first and told her "I feel like a bit out of my element" She replied "just pretend u are back in middle school, you will be fine" Plus I also posed with Marcus Lehman, Erin Lobdell, Brett Clouser, Courtney Yates and Bruce Kanegei! Plus watched karaoke! SURVIVOR STYLE! I also got to meet Ace Gordon, Courtney Yates, Kelly Czarnecki, Brent Horne and Jodi Witchetski of the Amazing Race. Marcus Lehman, Jerri Manthey a couple of times. Sooooo many great people and each of them are truly amazing. Definitely if you can, hope to see you at Celebration in Celebration Florida next July! Please contact Michael Nunez for further info.
Lots of fun and GREAT memories! Thank u cast and thank u Michael Nunez for this awesome event! Thanks especially go to Tom and Debra and Steven for the invite! Thank u Cindy Komora, Wipa Watson, Denna Benna, Katie Flower, Mike Hash, Stephen Arena, Melissa, Vickie Vallence, Keith Mueller and April Mueller for sharing this with me! Thank u also April Mueller for not hogging the covers roomie lol and girls we should get a patio chat in soon! xoxo
SLIDESHOW