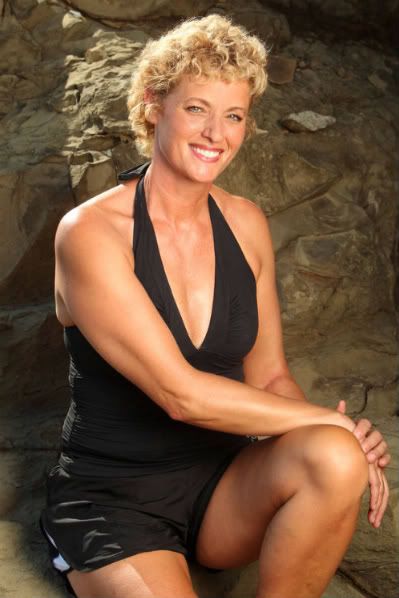 Name: Holly Hoffman (44)
Tribe: Espada
Current Residence: Eureka, S.D.
Occupation: Swim Coach
Personal Claim to Fame: Started my own swim team 16 years ago. I was named Coach of the Year twice.
Inspiration in Life: My husband - he is always there for me.
Hobbies: Running, biking and swimming.
Pet Peeves: Standing in line.
3 Words to Describe You: Energetic, understanding and competitive.
SURVIVOR Contestant You Are Most Like: No one.
Reason for being on SURVIVOR: I have raised three children and given 24 years to my family... Now it is time for me to prove to them who I really am and who I can be. To prove to myself that I can do it!
Why you think you will be the sole SURVIVOR: One word - determination.
Personal Thoughts: I have had the chance to speak to Holly and we have become fast friends. Mostly non show related stuff so I feel I have a good idea that she will do well on the show. She is very personable, single minded and very friendly. She formed her own swim team as SD did not have any swim teams anywhere in the state. Her team has done well also! Her daughter is a former Miss South Dakota also. She is a proud mom and was cast on her first attempt and to my knowledge is not a recruit. She is AMAZING!!!!