This episode for me was very inspiring. At times it was tough to watch but as it moved forward and things played themselves out, I couldn't help but in the end feel a large amount of respect and admiration for Espada's Holly Hoffman.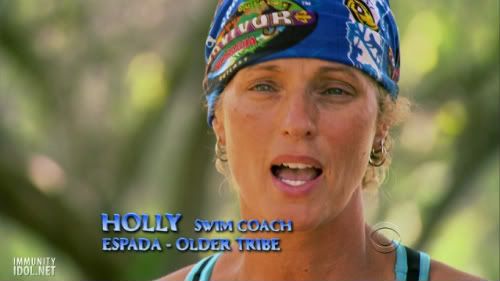 I am splitting this episode into two blogs as I have quite a bit to write about. To post both together would make for a lengthy blog. I also will for this episode step outside of the new format I am doing and will instead speak my thoughts. With that being said, let's get going.
It happens to the best of us
In the beginning of the episode we witnessed a pretty dramatic series of scenes. Holly Hoffman was seen visibly upset and having a pretty rough time emotionally while filming. As I watched this unfold, it became clear to me what all was going on.
We all have our bad days.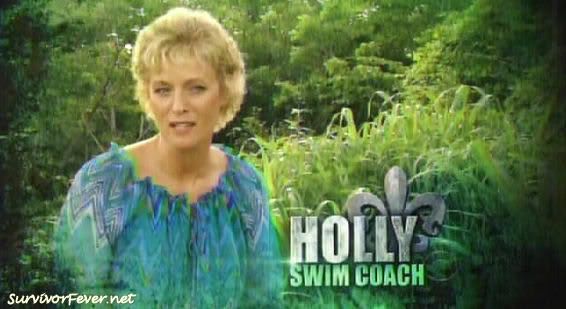 In Holly's case I think it was a combination of many factors that led to this collapse that she had. I try to place myself often in other's shoes to understand what they are dealing with and living through. As I write this I urge my reader's to also try to do the same.
Let's say each of us were out on an island, far from home; you are close to your family and are worried about them. You are also amongst strangers in a game situation. Food is very scarce as fish is scarce there. You aren't sleeping. Not sleeping alone can make a person react emotionally.
You are there about a week now in stressful situations. It's raining a lot. You are physically fatigued. Mentally fatigued from always thinking non stop about so many things. Basically you have worn yourself thin. On top of that you are not used to voting for people and find it hard doing that. You just voted for your friend in the game and feel guilty about it. You are realizing fast that this is not what you signed up for. You are starting to even question yourself. Why am I even here?
You would have a moment. Admit it. All of us are human and have our moments.
Watching Holly's brief encounter with demons brought me back to when I too in life have encountered a few of my own. Trust me, when you are that stressed and fatigued, clarity is not there. You will make snap judgments and yes, even rash decisions. It happens.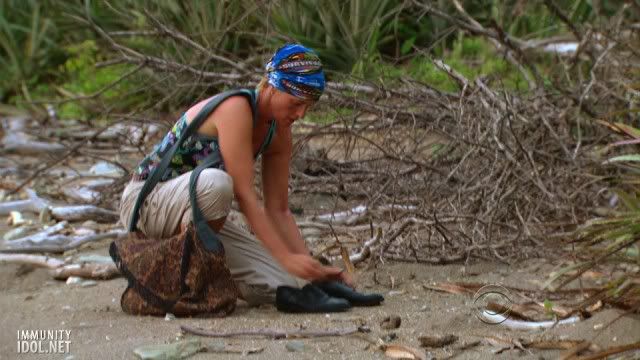 Far as the $1600 shoes being ruined goes...why in the world would someone have $1600 shoes, ALLIGATOR shoes no less, there in the first place in the jungle?? What's Dan's reasoning there?
Holly made the decision because she saw him making fun of her. Wouldn't u react too???? Game or not, I would react. Plus to me Dan Lembo does come across as pretty arrogant. I think by his admitting the cost of those shoes, he has made himself a rather large target already. This guy is like a multimillionaire and has zero game savvy to admit that.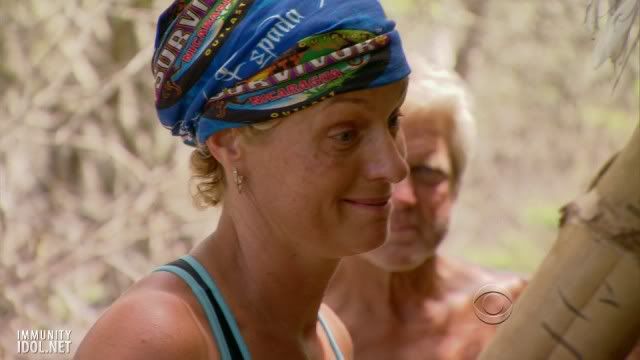 The one thing Holly should be given credit for is that she did own up to it and she picked herself back up. She took Jimmy Johnson aside and said I don't think this is for me. Jimmy gave her a pretty amazing Coach pep talk. She decided to stay and once she got herself pulled back together,heck she was stronger than before!!!
Thinking on this episode and watching Holly after this occurred, I couldn't help but notice something building within her. A strength and a poise that will take her through the next coming weeks. She can and she will make it. I have no doubt whatsoever of that. I have learned that after your toughest trials comes the most amazing growth and expansion of you as a person. Your character and your abilities expand. I can't help but think it's better this happen now than farther down the line. Take something from this hard experience. Learn from it. Channel into it and then move forward!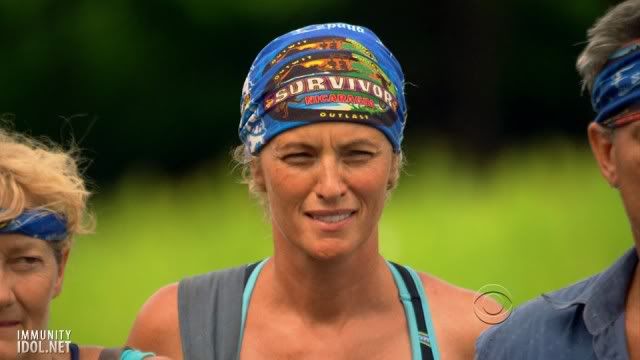 I have watched Holly grow this past episode.
Holly is no quitter.
She was able to pull herself back into the game and the competition. She also was very successful at the immunity-reward challenge. She said during this episode that what she had just experienced could only hurt her or help her from there out. In my opinion, I think it will help her. As it has given her much needed fuel and passion to just go out there and kick ass! I think she will rise like a phoenix out of these ashes and emerge better than ever.
You haven't seen the last of Holly Hoffman!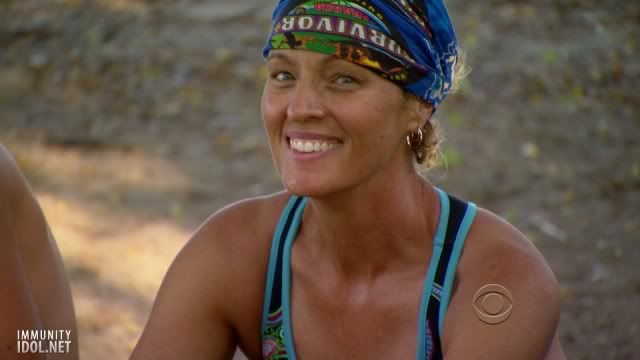 Immunity Idol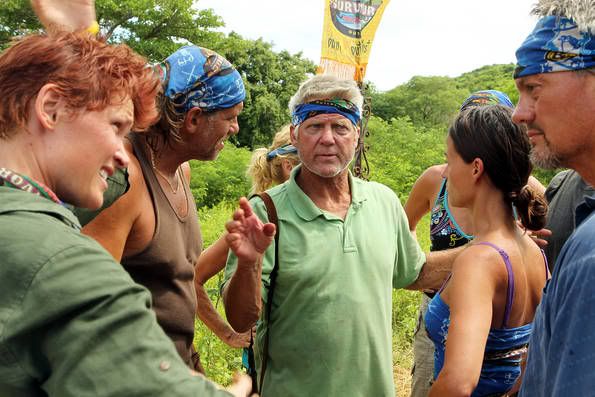 During this same episode we saw that the Tribe was given a clue to an Hidden Immunity Idol. Just like last week's episode when Kelly Bruno and Alina Wilson found the clue over on La Flor's island, the clue was given to Espada inside of their reward they won.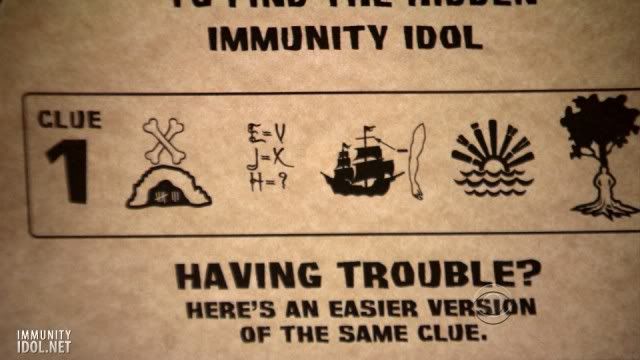 I gotta say Jillian was pretty smart to figure the clue out. But in all honesty I would not have shared it with Marty. Marty is an awesome player and pretty smart. With idols, the best idea is to keep the idol to you as it is what can be your salvation at some point.
I can see how Jill would want to use this as leverage for an alliance. Having Marty in an alliance can be a good thing. I like Marty. He is smart as hell. He has great game instincts and is making good social political decisions in how he is approaching his desire to lead by also sharing that with Jimmy Johnson, who also is a natural born leader. BUT will Marty share this idol as he did first exclaim I have found the idol.....
Not we...but I..have found the idol. He would not have found it without Jill's help though but still it is a game and a game for a million bucks.
Like Brenda on the opposite tribe, I do see people gravitating to Marty on Espada. That can work well for Marty. For the moment tho it does appear that Marty and Jill have officially aligned.
These episodes keep getting better! For the past two episodes CBS has been at the top of their time slot on Wednesday nights. The cast is a great cast and make for great tv! Congratulations CBS on putting together a winning cast! Not since Tocantins, have I enjoyed a season this much! Keep it coming!
Please join our chat on this Fan Page! Thanks!!
Survivor Cast Members in feature film 180
Promote Your Page Too