What a crazy season it has been so far and think it is just the second episode! But what an episode huh? I previously blogged @ Espada and now I will be blogging strictly about La Flor aka the Younguns (Under 30 Tribe). There is a few things going on so let's get started.
Who Game Wise I am Most Impressed With
Brenda Lowe is one who from the outset really stood out to me. You can just look at her and see a beautiful face, a sweet personality, energy and poise. Plus she is highly competitive. I am very impressed with Ms.Brenda and will even go on a limb (I don't do spoiler lists so if I am right....) now to say I do believe if this girl is left in check, she can and WILL win the game there. This girl has the tools, people. The great social game to where she is approached to be in alliances. The smarts to know how to work things to her favor. The kind of girl we gals envy because she is just that good and we wish we could be her lol. However, I do believe that she is a doll and I love her to death in the game. However, I am female and can read other females pretty well and I can also go out on a limb to say that Chase, bro, you should have stayed with Shannon and Co. Really.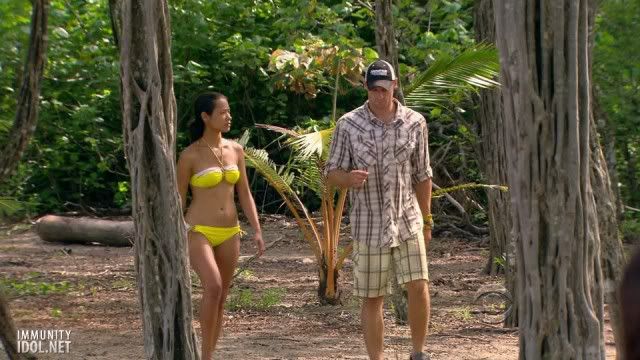 Chase what are u thinking bro?
I think honestly Chase is blinded by a little starry eyed attraction to Brenda. I think he is misplacing trust for a little bit of googley eyed thing going on. I am not gonna bad mouth Chase but will say this if you say to someone early you have their back and then in Tribal say I didn't trust you at all but trusted Bren and Ben...that to me doesn't feel right. Plus who could not trust Shannon? The guy is all straightforward. He lets you know where he is coming from and is not shy at all about it. How could you not trust that? Just saying....
Brenda I can see as someone who will keep Chase around for now but I think in the end she is gonna align more tighter with the "Minority Alliance" of Sash, NaOnka and possibly Kelly Bruno. Couple alliances are considered threats in the g ame. If it even looks like you are hooked up, people wanna break that bond because that can be considered one vote. Plus add that the girl you are crushing on is the biggest threat out there also...um Chase I would rethink the crush a bit. It may cost you your game. Just saying....
Rainbow Alliance
The Minority Alliance is a cool idea. There was actually a season for minorities (pretty controversial at the time to some viewers) called Cook Islands. Season 13. The Final 3 were made up of two Asians and one Hispanic. So it has been done before so this alliance is by no means unique. Involved in this alliance is Sash, NaOnka, Brenda, Kelly Bruno and now Chase. If it works it is the numbers but will it work though? You have Sash, who is easy going, affable, can't gauge his game sense quite yet on my end but I see him like a social butterfly. NaOnka is the most vocal of the group and fairly unfiltered. I think she plays by emotion other than gut. Brenda I covered above and Chase I covered and then u have Kelly. Will these personalities work and will they be able to be a cohesive unit? We shall see as the episodes go on.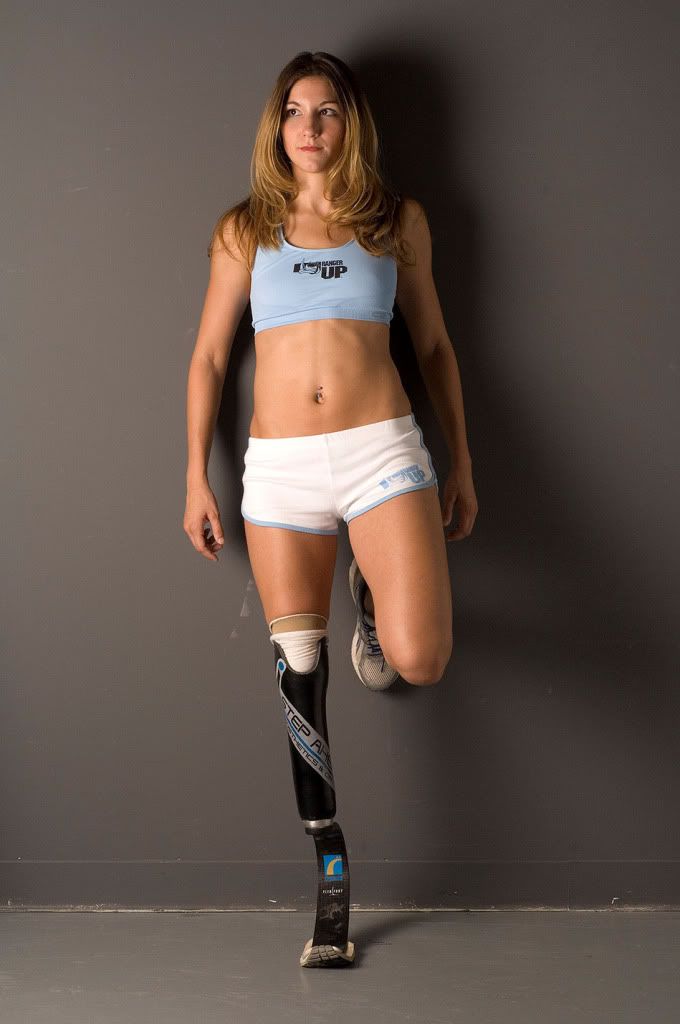 Do Not Doubt Kelly!
Kelly Bruno..what more can I say about her but just that she is just awesome! She's got great instincts and she is one tough competitor. Did you see how she competed in the challenge? She just flew through it effortlesly. Initially the tribe felt she was a liability due to her handicap. But you know what, the girl is solid and she has the means to out-compete anyone on that island right now. I loved during Tribal how she said, amid the craziness happening, that she is voting on what would serve the tribe best. I don't underestimate Kelly..no way!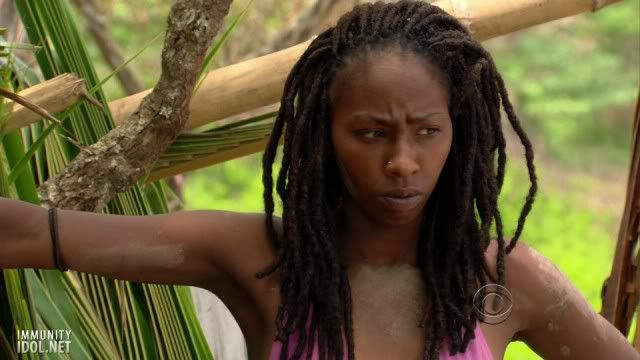 I don't mean to say I am a B-I-T-C-H....
NaOnka...lots has been said albeit in a negative fashion about NaOnka. But you know what..I like her. She is a lot like Shannon in that she will speak her thoughts. Nothing unreal about this gal at all.
I find her funny like the scene in Tribal where Jeff mentioned about sharing a tree with Jud and she said nuh uh I am getting my own tree! Can we vote now??? hahaha it was so funny that I couldn't help but laugh. NaOnka I see as a young woman who is trying to rise above the bad to find the good so as to speak. She has her moments when she speaks her mind and what she says is not pretty. Such as in Kelly Bruno's case. What was said I admit wasn't right. It was wrong but I don't see her as being against Kelly. I just think she is so real that she just says what's on her mind. That can be fun and refreshing but in a game like Survivor I can only hope NaOnka learns to sometimes hold back because in situations like with Kelly and the socks thing..it will be used against you. You're fun and sassy and I do like u Nay!
Socks...yea I admit it..over the top. But I can see Nay's side where she is irritated and just let the petty part get to her. Taking Jud's socks though shouldn't have happened. That did come off as sophomoric. Watching it on tv tho was funny. Tho I am sure Jud wouldn't agree.
The Tribal Council To End All Tribals!
Was it crazy or what??? Jeff asks one question and then BOOM! Opened up a can of whoopass so as to speak! Shannon is clearly the star of that Tribal because he came out like gangbusters flat out saying I wanna get down to the truth of the matter here. Who's with me? He called out Chase for his crush on Brenda. Shannon came off like shades of Boston Rob. But that is who Shannon is. He speaks his mind and pulls no punches also. Shannon has said in exit interviews that the Tribal was heavily edited and that a lot of what was said such as his asking Sash was he gay was edited for dramatic TV. That a lot of what he said was not shown. Some interview links to read what he said are at: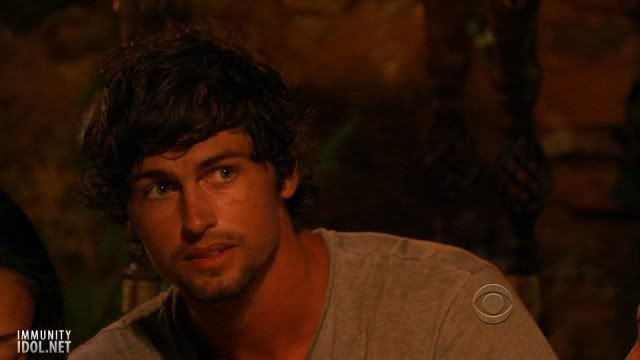 Shannon Elkins Says Show Edited Gay Comments
TV GUIDE interview
A bit from there is:
"TVGuide.com: What inspired the gay comment to Sash?
Shannon: I'm sorry Sash got in the way. In no way, shape or form am I a homophobe. In no way, shape or form am I sexist. ... You know how editing works, I didn't come out like that and say, "Are you gay?" Everybody in America knows the guy is gay, I didn't have to call him out. What happened was he kept bashing me and telling me I had been lying the whole time. So finally, I said, "Look, dude, I lied to you when you lied to me." He said, "When did I lie to you?" I said, "When you told me you weren't gay." That's how it really went down. ... On TV, if you watch the show, you don't even see my mouth move. That's not how it went down. That was retarded."
Shannon Elkins reacts to departure
I for one do not condone any type of gay bashing. But I have talked to Shannon and do believe he did not bash Sash in any way. I think it was as he said happened. As in any shows folks, if they can make it look dramatic they will make it look dramatic. Parts of Tribal was pretty funny tho but my take on Shannon was he knew he was going home and figured hey, I am gonna get some answers and I am gonna make these people think while I am at it. Like he said, he was not gonna get blindsided. He knew what was up. So like in the case of Holly, there maybe more to any situation than what you are seeing.
I was curious tho about the comment of there are more gays in NYC than in Louisianna. I was curious so I googled that. I found these numbers not that it matters lol. But it is an interesting topic.
You can find statistics on the following websites:
Sexual Orientation Wikipedia
Census Site For Sexual Orientation
Just some interesting footnotes.
Overall I would not have gone all out like that at Tribal..but that is me and how I would play. But you gotta admit it was the best Tribal Council ever possibly in the show and Shannon did go out not whimpering but with a bang! I will miss the guy.
Cannot wait for next week and more fun episodes! This season is really entertaining.
Please join our chat on this Fan Page! Thanks!!
Survivor Cast Members in feature film 180
Promote Your Page Too