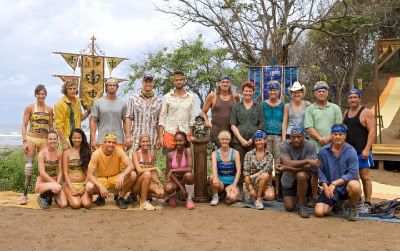 It's finally here!! The much anticipated 21st installment of Survivor..Survivor Nicaragua aka Old vs Young. Being I am over 40 myself and can hang with the best of the younguns, I kind of have a bit of an issue being termed ancient or old. But it's all in good fun. I do believe that the more "wiser" tribe will definitely give the younguns a run for their money yet! Don't count us over 40s out yall!
This season I have instituted new changes and a fun. fresh approach! Being a die hard fan I would like to recognize in this blog other die hard fans that often do not get recognized for their enthusiasm and love for the show. I am selecting each week one) under 30 fan and one) over 40 fan until season's end and will spotlight those in my blogs weekly. I also will select a music video weekly that I feel sets the tone of the episode. The one I selected first has an upbeat mood and it also speaks of just falling in love again, which many of us fans are..with the show!
I also plan to instead of analyzing each segment of the show, instead will select players that stand out to me each episode. I will analyze them from a social, strategical and competitive edge. I also will analyze them from a fan viewpoint also. Lots of changes, a new look and a new season!!!
Holly Hoffman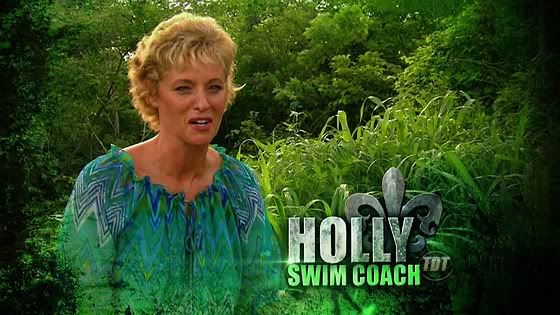 Fan Point Of View:
As a fan watching the show I tend to try to find someone I feel I can relate to as well as be entertained by. Holly Hoffman fits those things easily. She is down to earth and is someone I feel I can go out and have coffee with. She also to me looks like someone who has a sense of humor and also has a competitive edge as well to her. From a gamer standpoint, Holly is one of few I noted actually playing the game early.
She was shown making an alliance early. She was shown discussing strategy with Jimmy Johnson. Then in a group huddle with Marty, Jill and Yve. From a fan viewpoint she shows me she has the intensity to compete and compete hard. She shows me she has a great social game also. As a fan of the show I give her four thumbs up!
Strategical:
As stated earlier, Holly Hoffman came ready to play the game. She approached an early alliance with Wendy Jo, which turns out to be a quick decision based on her gut impression of Wendy Jo.
Later in the game things did change. Holly was smart enough to adapt to the changes and reconsidered her options. She approaches Jimmy Johnson asking his thoughts and then later approaches Yve, Marty and Jill and gets their thoughts also.
This early in the game, not fully knowing where everyone is at in the game; people often have to rely on their gut impression of what is best for their game and for the benefit of the tribe in making voting decisions. Holly uses her gut in making strategical decisions. Once she realized her decision to stay in her alliance was not for the best for her own game and the tribe, she stuck with the tribe and voted her early alliance out. It's early still and not much to go on yet but I do feel Holly Hoffman does have a sound strategical game. I also feel she will surprise everyone in the coming episodes.
I also noted in first impressions that Holly Hoffman is also someone who will pay attention to things and size all situations up. For a strategical player in Survivor these are characteristics that will strengthen your strategical game. Holly's no dumb blonde! I think she does have savvy!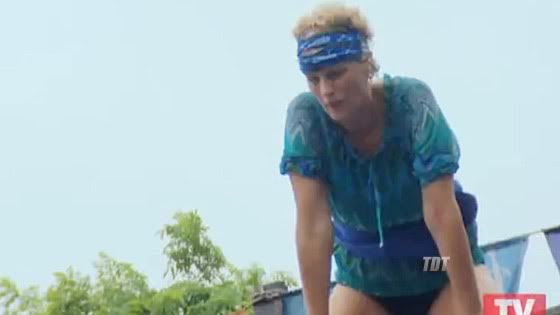 Competitive:
Holly Hoffman showed to me a strong competitive spirit. In the one challenge she kept up with NaOnka in the water part and finished just mere minutes after she did. Holly also shows me she WANTS to win and will work hard for that win and give it her all!
Social:
Holly Hoffman has a very kind and friendly personality and it shows in her social game. She is very people oriented and is shown socializing with each player. Her down to earth approach to the game will take her far!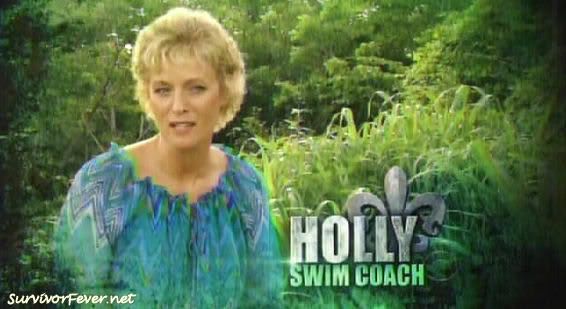 Marty Piombo: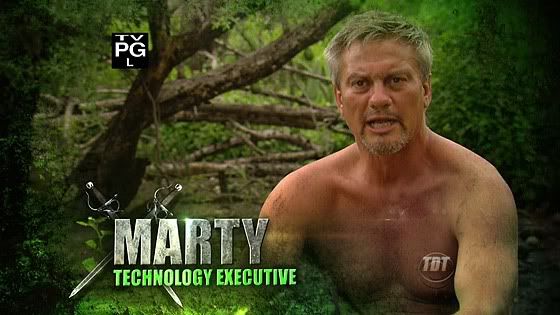 Fan Viewpoint: Off the bat I was very impressed with Marty. He showed me all the factors I look for in a player: intensity, fun and strategical ability. I instantly warmed up to Marty by watching his interactions on the beach in the beginning. I also liked how he sized the situation with Jimmy Johnson up also. He appears to be there to play and will play the game subtle yet strong. I would play similar so having watched his entry into the game. I can say I am going to be supporting Marty most likely during the season. I like him!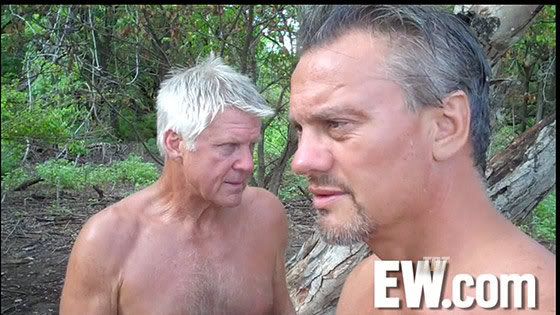 Strategical: Marty was shown using strategical thinking right off the bat. He sized Jimmy Johnson up and said I don't wanna have this guy near me as he could hurt my game simply because he is such a celebrity. The star power factor. He discussed it with Dan Lembo and also Jimmy T. He also did it from a subtle approach. Not saying hey we gotta get him out, but just subtly planting seeds of why Jimmy should be watched.
He also is seen strategizing with other groups and getting their impressions of the game and the tribe. He doesn't seem to have a set alliance yet but is searching the lay of the land and keeping himself aware of everyone. Being he is so observant this will work well for him in the game. Plus he appears to be thinking steps ahead as well. Marty to me is a thinker.
Competitiveness: Gotta go with my gut. I sense Marty is highly competitive. The way he appeared on the beach early speaking of competing and the energy he put into the challenge shows me he is not one to back down from a challenge. Plus he also is a scrapper I sense. He won't go down without a fight!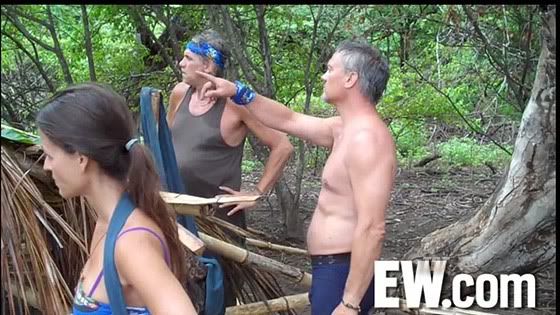 Social: Marty is talking to EVERYBODY! He was introducing himself on the beach and he also talked to Wendy, he is seen on the perimeter of groups. Plus he appears very friendly and sociable. I believe Marty will possess a very good social game.
Brenda Lowe: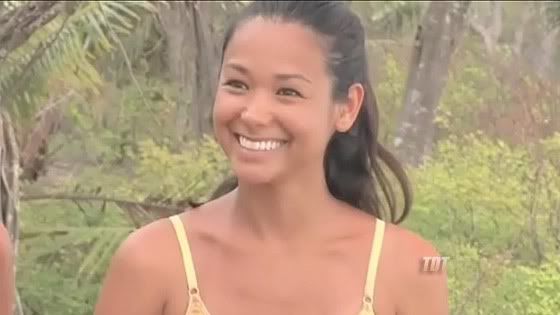 From a Fan Viewpoint:
I like Brenda! Plus yep gotta love her name too! She is also a Florida gal like myself so she can't be all that bad! I connected to her zest she showed getting the Medallion of Power. The way she summed up the reason she would use it if she had it. Plus she appears to play the game the way I myself would play it. In fact I played a similar game on
Survivor Myspace 8
. The name Brenda in German means "sword" and I see Brenda as being a player who will cut her way through the game. Not in a bad sense, but a good way. She will claim victims.
Strategical:
Brenda is SMART! The one thing that stood out to me was when Chase approached her and gave her game info of his alliance with Shannon. Brenda entertained thoughts but also says I will keep this info in check and use it to my advantage later on when needed. She is wily. She will use her beauty to her advantage. Plus she is a thinker. Strategically I peg her as being sound.
Competitive:
Brenda right off the bat obtained the Medallion of Power and climbed like a monkey to get it before anyone could. During the challenge I sensed the same ferocity and fire in Brenda. I think she is a tough competitor and play st the game competitively as hard as she plays the game. She will prove to be a forceful contender.
Social: Brenda will use whatever she has to her advantage including her beauty and her social capabilities. She is seen talking to various cast throughout the show including the convo with Chase. I do see a strong social game already.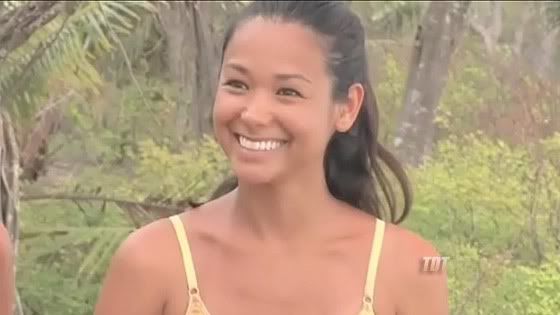 Shannon Elkins:
From a Fan Viewpoint: I like Shannon! He appears to be a straight shooter. I appreciate the people who are like that in the show and from a fan viewpoint, he is very entertaining to watch!
Strategical: Shannon like Holly made an early alliance with Chase Rice. Whether this will last is early still. Chase appears to be loyal to Shannon as he did not want to add others yet to their pact. But the fact that he is doing this early shows me early strategy. he reminds me a bit of Boo Bernis from Fiji. Boo made it pretty far that season so I am hoping Shannon too will go far this season.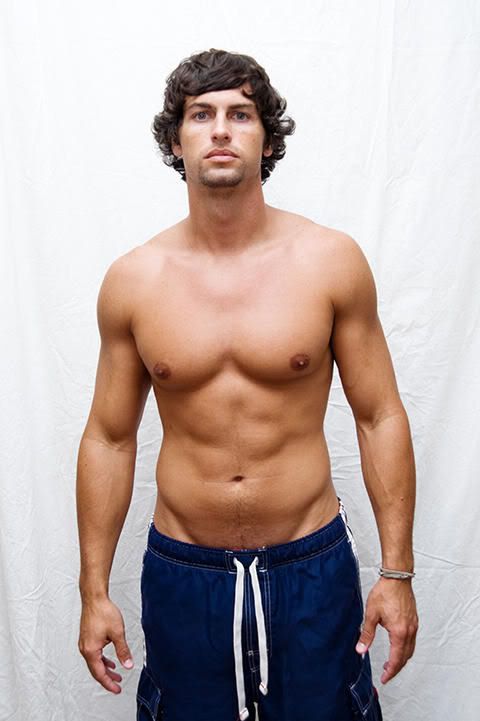 Competitiveness: I sense a competitive spirit and drive in Shannon. In camp life, in the game. Plus during the challenge he showed a high level of intensity.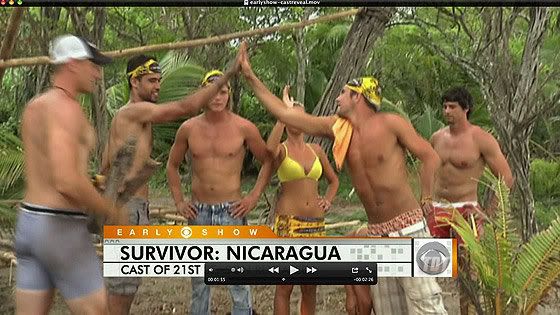 Social: Shannon is a very social player. He had numerous interactions with the cast. His interactions with Fabio aka Jud. They were seen kidding around together at camp. His interactions with Chase early and on the beach in the opening scene. Shannon, like Holly, sizes up each situation well and makes his decisions based on his gut. He has a lively personality and is outgoing and funny. He should have a pretty solid social game.
Medallion of Power:
There was a new twist introduced this season and that being the Medallion of Power. Whoever possesses it has an advantage at challenges. If they choose to use it, the opposing tribe then gets a chance to possess it.
Initially Brenda found the Medallion but chose to give it to the Over 40 Tribe for a reward of survival gear. Personally I agree with NaOnka. If u got power u hold on to it. Which is why I agreed with the Over 40 tribe's keeping the advantage. I like the idea but don't like the idea of switching hands if used. I feel it should stay with whomever possesses it.
Wendy's Exit: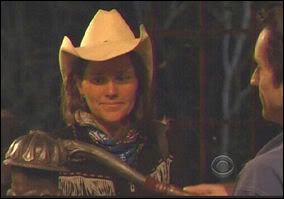 Wendy's downfall in short is she was not only weak but showed herself non sociable. She herself admitted she worked more than socialize which is a two edged sword. Workers are needed in camp but it should never keep u from having a social impact as well. Marty felt she was weird. Plus at Tribal she chattered and chattered and chattered. It was to me, very annoying as she appeared to come unglued. She seemed in her speech to be off center at times. I think if she would not have made the chattery faux pas at Tribal, it would have been a tougher decision.
Please check out this new Fan Page for the upcoming film 180! It has it's own SURVIVOR page now and will be talking SURVIVOR NICARAGUA there! "Liked" by various Survivors! Check it out by clicking on box below and come join the fun!!
Survivor Cast Members in feature film 180
Promote Your Page Too