The difficulty of tactical maneuvering consists in turning the devious into the direct, and misfortune into gain.
- Sun Tzu
First off I would like to thank all of my readers for stopping by again to hear my takes on each week of Survivor. I truly appreciate each of you and each of your responses. Of late I have been suffering a bit of a bug so I may keep it short this week and just hit the highlights. But last night's episode again did not fail to entertain. In fact at one point it was too intense and had me on the very edge of my seat!
I have to hand it to Marty on not only having the guts to not play the idol but to stay focused while Brenda was trying to toss him under the bus. I will admit Marty is one of my fave players this season. He is a smart guy playing against some pretty serious odds right now. He is playing it smart now in knowing he needs to lay low for a minute and come back with a solid game plan to take on Brenda. The one thing though I noted is how Marty did not even realize Jane had defected to the other side. Assumption almost bit him in the butt. But I love Marty and think he will figure something out.
Jane cracked me up with her comment of don't try to out do a Southern gal. Jane is starting to come into her own a bit. But what she doesn't realize is that Marty was being 100 (real) to her at Tribal. That is all Brenda, honey who had a strategy to cover all bases. If Marty doesn't go now, we flush out the idol and we get rid of Kelly B.Two birds with one stone.

Except in a gutsy move, the idol stayed in.

Plus Marty stayed in.
It was the perfect opportunity to get him out the second vote so I am thinking maybe they decided to keep him in out of respect for his gutsy move and with Jill's vote for Kelly B and the others casting their vote the same way again, no one wanted to chance a re-vote or a tie.
The idol will continue to be a focus now for La Flor and with Sash now saying u need to give me that idol as seen in the preview, could it be a bargaining chip perhaps? Or then again, perhaps a way for Marty to approach the main alliance with a way to create seeds of doubt within the ranks?
Next week we shall see. But last night Marty played gutsy and I think u aged me about a decade too...whew!

In the process though was the exit of Kelly Bruno. I for one liked Kelly Bruno as I found her a competitive player. She did well for herself in the challenge and it's fair to say it was a pretty fair blindside the first go round of votes. Besides being someone that La Flor's main alliance considered an enemy due to the fact of old scores get settled quicker than new ones do, I think Kelly also could be a hard person to beat if taken to the end. Not only could she garner sympathy votes but I think respect votes as well as she did play competitively. She is a nice girl and in her own way she was a threat. It's sad to see her go. But she leaves with my respect!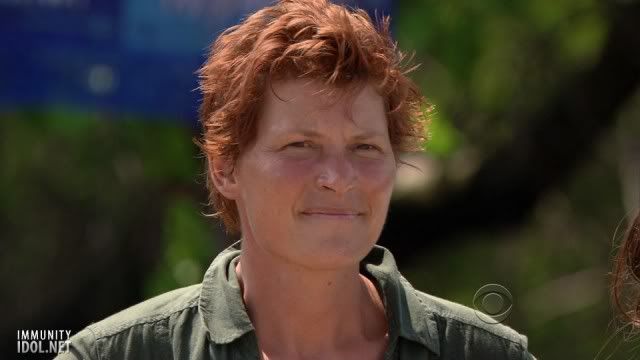 I am STOKED to see that two of the former Espada Older Tribe are stepping up to win challenges and immunities! Both Holly Hoffman and Jill Behm won immunity last night and each one did a great job! Jill went on to win the extra Reward of shish kebobs which the tribe dined on during the TC for Espada. It's great to see Holly winning and showing that she is a front contender and to see Jill win also as she was on a serious chopping block. This saved her and shows she is very much a contender also and just as solid as her team mates. Go Holly and Jill!!!!!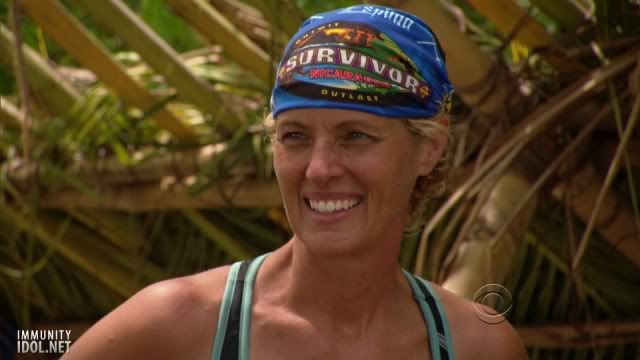 Speaking of Holly, she is starting to finally come into her own. I knew she would and am thrilled to see her emergence with each episode. The episode opens with her talking about quitting and what we are seeing is a woman more confident than we saw on Episode 2. I would call it a complete 180 and think she will show us more strengths in the weeks to come. If you noticed last week she was Captain of her Espada tribe and this week she wins immunity! She is showing to everyone that quitting is not an option and that she is here to play!

The exit on Espada was Yve. Yve is a wonderful nurturing person and we finally saw her game face last night! She fought hard to stay in the game and maybe a little too hard as the tribe realized to keep her would mean the possibility that at merge she might would flip back to Marty and Jill. She also was there to play and was not taking a back seat to Dan in the process. I love Yve and was sad to see her exit but her exit was played strategically. Yve you did great! In the end you showed us you had what it takes to be out there and could take em on girl!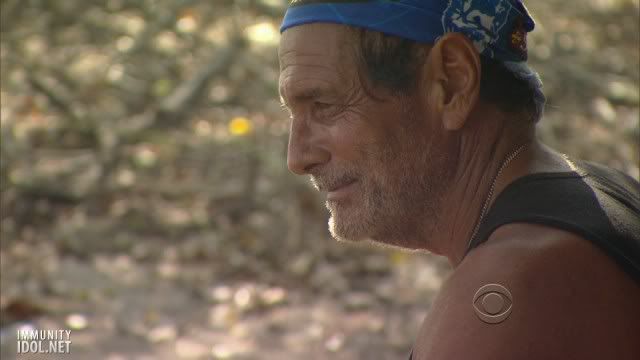 Dan is showing me some of his arrogant side again...does he not realize that when u talk about having money that people just don't wanna hear it? Dan not going says to me what I have stated all along in that he is not a threat. If Dan continues to play weak then he will be kept on as a number even tho he is a liability. Just by doing that he may be in a while tho in all honesty I do hope he is the next to go. Nothing against Dan personally but if you wanna quit, you complain, you brag, you aren't strength, etc etc my question would be, then why are you even there? I down deep like Dan but he does tend to rub me the wrong way at times game wise.
Some observations; did you all notice how Jeff Probst baited Fabio and Nay at TC? Jeff also seemed to be baiting Yve a bit as well in just the way the interchange went. The Nay/Fabio thing I chuckled at but I do feel Jeff seemed to be trying to coax more out of Yve.
Another fabulous episode and as each week progresses it gets better. The Marty-Brenda faceoff continues. Kelly B is the first victim to that faceoff and I can only think there will be a few more also. I don't see the Marty-Brenda faceoff ending too soon as I think both have game in them. I also hope in coming weeks to see Holly Hoffman continue to shine and expand as I think she is also one to watch!
Thanks for reading and hope everyone has a fun week! Til next week keep your torch fires burning!