Thanks Brian for submitting this great blog!!!!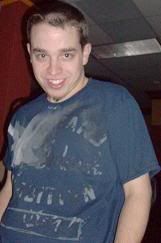 We are going down to the wire and last night's episode was the last one before the big finale on Sunday night. This was a memorable episode probably one of the best one's of the season. I always love seeing the loved one's coming out and visit. It's always nice seeing how the survivors react to seeing them. I really did feel for Jud aka Fabio in tonight's episode.
Chase made another false promise and it really did hurt Fabio. Not getting to see his mom that much, it meant a lot for him to be able to spend time with her. Although it may not have hurt Chase in the sense of him getting voted out, by making promises he isn't keeping to everyone, he is risking losing a lot of jury votes if he can make it to the final 3. I do not think Chase is playing a smart game at all and I would be surprised if he were to win it on Sunday.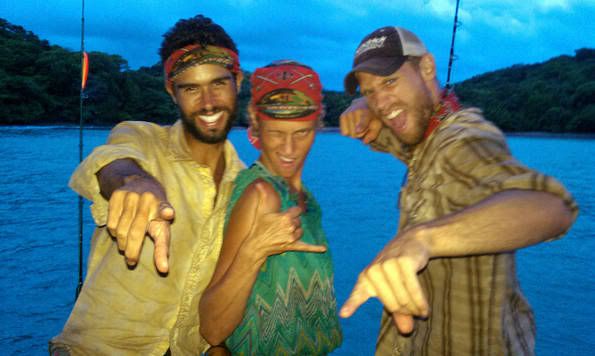 Holly has not made many mistakes this season, but was voting Jane out a huge mistake? I understand taking Jane to the final 3 is a huge risk, but by eliminating her now, Holly may become the biggest target next to Fabio. I believe Holly will win if she can make the final 3, but now that Jane is gone, the other survivors may think the same thing and want to get rid of her. Had Holly talked Chase into keeping Jane and voted out Dan, I think she would be a lot safer right now. This vote benefited Sash the most. He is the one that needs to win votes if he can make the end game and going against Jane and Holly would almost be like suicide. Now if Sash can eliminate Holly and take Chase and Dan to the final 3, he may just win the game. I do not see anyone voting for Dan and Chase has pissed a lot of people off leaving Sash as the million dollar winner. Of course I do not see Dan making the final 3 which means I do not think Sash will win the game.
It was vital for Fabio to win immunity tonight and he pulled through big time. There is still a lot of fight in him and I am really hoping to see him keep winning. Can Fabio win the million if he makes the final 3? The answer to this question is yes. He must go to final 3 with Chase and Sash though. If Holly is in the final 3 with him, he has no prayer.
How do I see this playing out? Here is my prediction for Sunday. I think Fabio will win another immunity and they will send Dan home. Than at Final 4, I see Fabio falling short of winning immunity and being sent home. My final 3 prediction is Holly, Sash, and Chase. Holly will be the big winner and sole survivor. Who will win the fan favorite? I really think Fabio will win that praise on Sunday and take home the 100,000. My favorite final 3 scenario out of the 5 people left would be Fabio, Holly, and Sash. I would love to see Dan and Chase go home before the final 3.
We will see how this plays out Sunday!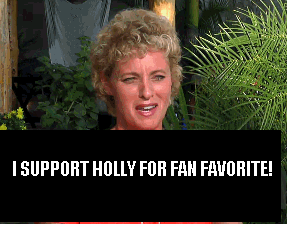 Text the no.7 to 81818 or visit
Survivor Nicaragua on CBS
to vote! U can vote up to 10 times either way!!!