It's my game. I'm in charge!
Boston Rob Mariano
All is still divided on the Murlonio Tribe but it's clearly obvious who wields sole and complete power...the Survivor dom himself..Rob Mariano.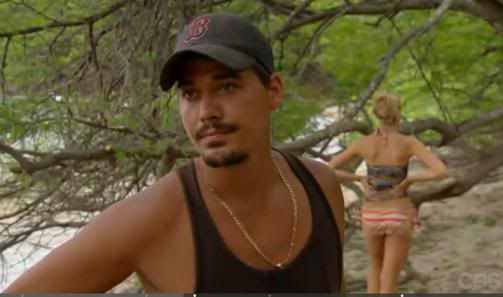 The former Ometeppe Tribe is ruled iron fisted by Rob.
He decides when they will eat..sleep..what type of social activity they will have with the former Zapatera.
He also decides effectively who will go next.
Make no bones about it Rob is the boss.
Watching this on the show, as a viewer; I find myself rather turned off. I don't think I myself could allow someone to demand that I not eat when there's food around or to do a buddy system.
To control how I have social interactions.
It would be obvious to me that my own tribe member would consider me stupid. Or to me I would think of it as the person coming off like my parent. I cannot fathom why they are even allowing this to go on. Unless they are so convinced that Rob will take them to the Finals. But with Rob...can that be guaranteed? If anyone tries anything out of the norm he immediately says :"your loss" (Ashley)
Don't they realize what he is doing?? Hello!
What Rob is doing in my opinion is basically making sure they have zero options. By their having zero options he has ALL options. He progresses to the end unchallenged.
BUT really Rob were you to progress to the Finals..do you think you will have the vote sewn up?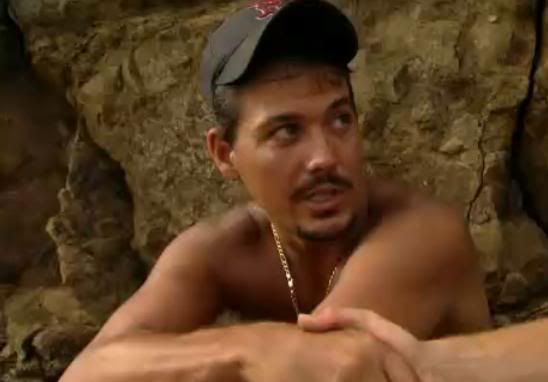 There are so many variables to be considered between now and that point. Plus there are still two variables that Rob has ZERO control over.
An extra immunity idol (since Ralph played his) and....Redemption Island.
Possibly Matt. In fact make that probably Matt as I genuinely think the kid has it in him to pull it off and return for a showdown of epic proportions vs Rob.
I recently asked on my Facebook about two possible F@ (were there to be an F2) possible scenarios. I put two possible ones that are probable one being Matt and Phillip (my favorite scenario) and another scenario my guy and I discussed of Julie and Andrea. But the one I am leaning more towards is the scenario of Matt and Phillip.
Even tho Rob may have and wage supreme power right now in the game itself. Rob has zero and I stress zero power over the outcome of Redemption Island. That outcome is totally up to the combatants.
But Rob is trying in a small way to have some control over that factor in that in selecting people to go against Matt..he is selecting the strongest opposition imaginable.
He does not want Matt to return. Rob knows that were Matt to return he would have someone who would a: not be one he could control so easily b: a stronger opponent and c: a LIKABLE player!
Were Matt to return to the game at some point he would be Rob's biggest obstacle. Which is something Rob does not want to see happen.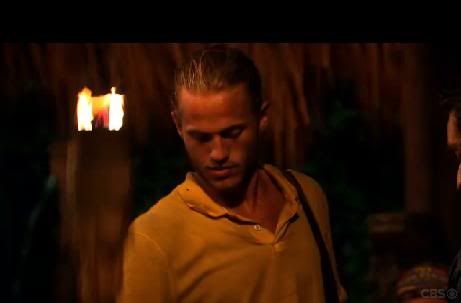 Say he were to return ..Matt will (like Jeff noted) not have forgiveness on his mind. Plus Matt himself noted "fool me once ..shame on you..fool me twice..shame on me" ...Matt I believe will not allow a threepeat and hey if God is helping out..the kid could pull it off. Faith goes a long way in the mental factor and the mental factor goes a long way in the physical as well.
Plus Matt being younger with a purpose of overcoming the past could give Rob a run for the money.
And if you think about it.. with Rob's actions now; who's to say by then people would not consider flipping? There are variables and this is a strong variable I am sensing and working through as I study the little bit of game there this season. I am basing my theory on the storyline this season which has a spiritual bent. Factored into Matt's favor. Why fashion it if he goes early?
Also as in any life equation when someone is so dominant like Rob..the domination as in any factor ..will at some point lead to a person falling hard and solid. That domination will at some point either be used against him to oust him or lead to an overthrow such as in the examples of many dictatorships.
Humanity as a whole hate being lorded over.
So for now the fiefdom is in effect and Rob is having his day.
But one day that fiefdom will be challenged. When that does happen Rob will pay the piper.
Stealth R Us Taking Applications BYOI
Watching Tribal Councils this past week were very entertaining for me. Honestly I laughed so hard that I almost bruised my ribs. Phillip Shephard may be the craziest cast member on Otempo Otempe (or did Rob call it Ometempic?) Tribe ...wow that's a hard name to pronounce lol let's try again Ometeppe Tribe..but he is definitely the funniest and most entertaining. Without Phillip the season would lack the fun and would be the Rob Feudal Lord System Show. Not fun...dull..boring.
Phillip has sampled that magical Kool Aid. In fact I would not be shocked if he opened up a stand in a mall somewhere hawking it. Nothing wrong with magical Kool Aid though as it makes one an interesting and humorous person.
I do tend to agree with Mike's assessment that Phillip is seeking an identity. He is such a Coach Wade clone that it's getting a bit scary here. Donning a black feather that "magically appeared out of no where during my meditation" which also would you know include a visitation from his great great grandfather a pure Cherokee Indian named Jessum Herring (misspelled?) who prophetically announces that Ometeppe and it's members will live long in Survivor lore!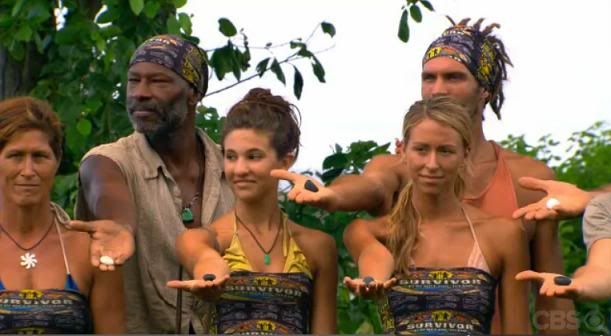 He sits out of a challenge opting to eat (flashback Coach Wade did the same exact thing in S18) he also quotes mystics and philosophers. If I haven't been such a Coach follower the past two years..I would swear I am having flashbacks.
However Phillip in the end is not Coach. There is a difference when you look at carriage and character itself. Nevertheless I am having fun watching this faux Coach this season. Plus talking to Coach Wade himself he likes Phillip and enjoys watching him also.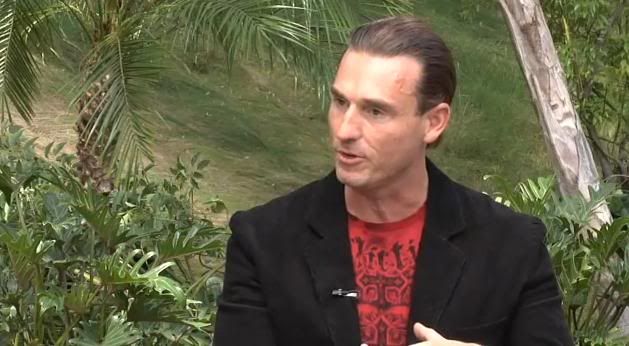 During a Tribal Council the feather part was priceless. Ralph asked for a feather ..in fact I want a feather too Phillip! Plus also when he spoke of Stealth R Us. Man I almost broke a rib laughing. Stealth R Us consists of the Three Degrees..The Mentalist. The Assassin and it's originator Phillip..the ex federal agent turned specialist in Stealth missions!
Phillip for all of his eccentricities is a dream to take to Final 2. He annoys people. He entertains people. I'd take him! So don't count Phillip out. He maybe a bit on the delusional side but he is a classic! He is also smart. Outside of a racist remark he made during Tribal..the guy makes smart observations.
But for now he is enjoying his seat on the end of the bottom rung of the ladder. He was smart to not let that statement get in his head and stated "I enjoy being on the bottom if that's where I am..it"s a good place to be I can look up and see what's going on" if the guy were that big a goof...he would not have the clarity to make a comeback like that or to state that he should try out for an acting troupe.
I take only parts of what he says seriously and for those parts...the man has some serious points. My thoughts are he could be letting Rob think he has him lock stock and barrell (patiently biding my time and waiting for the moment to strike is a quote)so that when the RI challenger returns he could flip to them.
Phillip maybe the "odd duck" but I can wager F2 for him or Finals and hope I am right.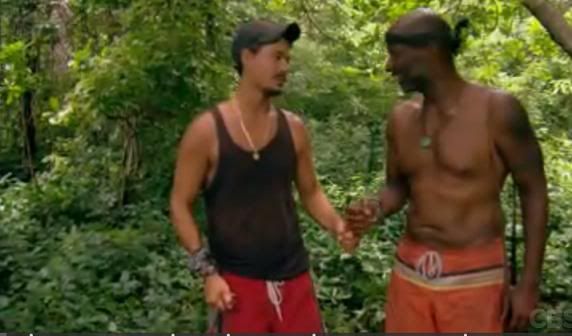 Episode Glimpse
Paranoia and idols ...how do you have fun on a boring day? Start messing around a flag pole and see how much paranoia you can stir up! "We were looking for rocks!...."
"what do you mean rocks? there's rocks over there...all u can eat rocks!"
LOL fun times....
The funniest vote cast ever!
Immunity Winners this week :
Grant Mattos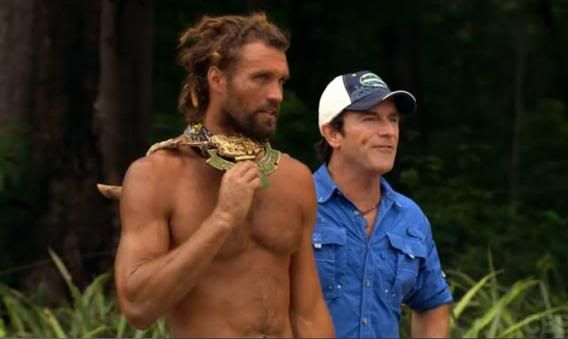 Andrea Boehlke
Redemption Island Challegers to Matt are:
Mike Chiesl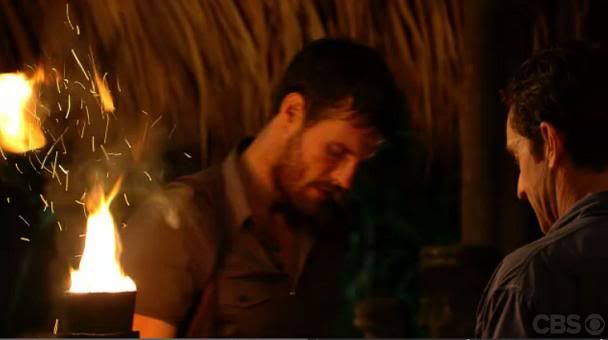 David Murphy
Well that's about it for now. I hope everyone enjoyed the episode and would love to hear your thoughts. I am by no means an expert and by hearing your thoughts..it helps me to understand stuff as well. Or explore other theories which I enjoy to do. With that being said have an amazing week..until next episode..keep your torch light lit and enjoy the next episode of Survivor Redemption Island!
Ciao!
Questions For Discussion:
1. How much do you think redemption Island does factor into the game as a whole?
2. Rob;s strategy of iron fist..help or hurt chances were he to make it to the end?
3. Will Rob make it too the end? If not...who are your fave probabilities do you think will?