"Racism is man's gravest threat to man - the maximum of hatred for a minimum of reason." Abraham J. Heschel
I have got to admit that this was one crazy episode. Being it held no strategy it did tend to be somewhat dull except for the fireworks which honestly held no place at all and should not have happened. Yes I am sad to say the race card was indeed dealt in Survivor.
Most of the episode centered on a situation that presented itself due to the division continuing among the tribes.
Since the merge, the tribes have been decisively divided..socially divided..
strategically divided and also by living and survival means divided. The food they have in camp, thanks To Rob's iron clad rule of not sharing anything with the former Zapatera Tribe; is also divided.
With The O's having their food and the ZZZZ's having their food.
Split and set apart arrangements..which if I am not mistaken
Phillip himself touted.
So this rice war that ended up starting was really very off base. Especially since the rules of not mixing or sharing were started by the O's to begin with. To me it's kind of an "I want my cake and eat it too" sort of thing.
Basically what I saw was Phillip got pissed because the Zzz's tribe had more than the O's had and were eating more than what the O's were comfortable with them eating.
Phillip then decides to take it upon himself to
STEAL
rice from their urn and place it with their supply. Thereby depriving the Zzz's of food. Which I think in and of itself is pretty dirty. That would weaken the tribe and would make them even more vulnerable. It also is a power thing. Food is the one thing you should not mess with in my opinion.
How this started was that at some point the O's tribe decide to make some rice. They realize that due to the fact their urn has gotten moisture in it on the bottom; that the stolen rice mixed in with the original rice..now has mold and maggots in it.
Instead of approaching the Zzzz's and making some sort of solution before they dump it outside the urn, they end up dumping the rice onto a blanket and pick the maggots and
visible
stuff out.
Now I need to make a point here..just because you cannot see it, doesn't mean there are no parasites left in that rice. Maggots lay eggs and their eggs are very tiny.
When the Zzz's tribe were approached about mixing both batches of rice into one urn (which Phillip did say at one point he wouldn't agree to do if it were him) Steve and Julie said they would need to talk it over with Ralph. Which is fair given the living situation in camp. Plus honestly who would agree to do that. The rice is still contaminated.
Now to the living conditions..remember it was the O's that set the rules of division to begin with and are not bargaining anything at all for the use of the urn. They are still wanting to uphold the division AND expect the Zzzzz's to just up and do whatever is asked with no tribe mediation.
When they say basically no.. Phillip gets pissed off again because they aren't allowing the O's use of the urn. Now he is saying it's OUR rice ..funny as last week shouldn't that have been OUR fish?
Anyway he and Steve get into it...something about ju jitsu was said and Phillip started threatening the Zzzz's with taking the urn and doing it anyway. Putting the rice in it. Honestly that all to me seemed like a temper tantrum more than anything because he couldn't have his way and the rest of it completely and utterly unnecessary.
Because of past experiences Phillip brought the race card into it. Basing his feelings on an incident that happened in the late 60s when he was in a market with his dad. That's awful what happened. I do feel bad that this did happen to him. No one should ever live through experiences like that. That I do feel bad for him about.
In a PTSD style moment he equated Steve's response post confrontation of you're a lunatic with the word crazy instead. Then equated the word crazy with the "n" word.
The fact that Phillip would utter such an awful word about himself is horrible. The fact that he would even accuse someone of such an awful thing is even more horrible. In the end it was just so unnecessary! Do I think either is right? Not really. Steve showed disrespect as much as Phillip did. Which shows the level of problems and division in camp.
Both were obviously aggravated one with the other. The war further led to Julie's decision to bury Phillip's shorts because of being peeved at Phillip.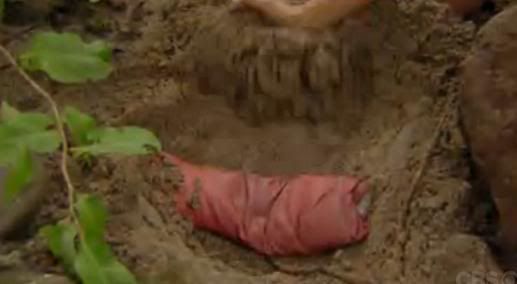 In the end all of this was really totally unnecessary. If Phillip and the O's want separate living quarters and separate camps within one then it should stay that way. You can't suddenly change the rules mid-stream and say OURS. Not without complete sharing. If you want the urn then cough up some tarp space and share equally. That's how I see it and this war that resulted could have been prevented.
Tribal opened up the can of worms even more. In the end out of the mess..neither Steve or Phillip went. Instead Julie went. Which makes no sense to me unless she is perceived as a possible threat to flip the girls by Rob or maybe because he is afraid she will stir things up. Possible reasons still why she went I am shocked. Below are images from Tribal.
Phillip faces the demons
I took the shorts Jeff!
Steve is blown away by being considered racist
David's expression is priceless....
Julie is voted off
Now to Redemption Island/Duel
If I feel bad for anyone though it is Matt. RI is really getting to him. What with the food condition being scarce and not much really to do. Matt to me seems like the active type person and watching him struggling in prayer makes me think of how I feel during a blizzard. Cabin fever. Man it makes you think you are gonna lose your freaking mind. Matt is really struggling and it is his faith that is sustaining him. When David arrives it shocks both Matt and Mike, who now have no clue what is up here.
What ends up happening is a 3 way duel. In the end Matt and Mike are victorious. David loses and becomes first member of the jury. I really sincerely hate to see David go. I initially felt David would go pretty deep in. Once I was asked whom I wanted to see win..I selected Matt or David. I think of everyone playing save Rob that David brought actual strategy into the game. I wish he would have had a better shot and will miss seeing him play for the million. That really sucks :(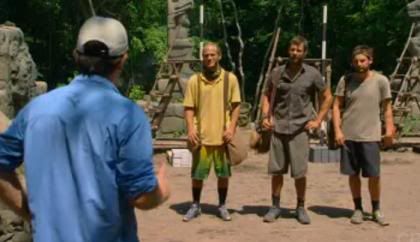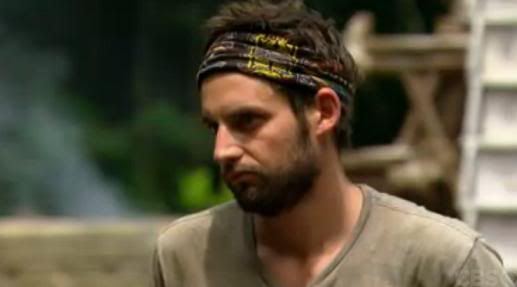 Well folks that's it for me for this week. Until next time keep your torch lights lit and enjoy the next episode!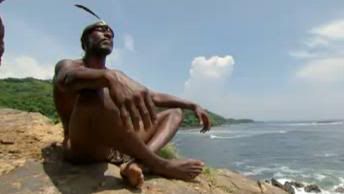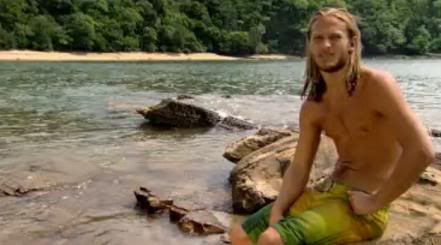 Discussion Question:
What part does deprivation of food play mentally on the body and could the Rice War actions be based on that also?
Jeff Probst's Take on The Situation