You gain strength, courage, and confidence by every experience in which you really stop to look fear in the face. You must do the thing which you think you cannot do.
Eleanor Roosevelt
Hello to all my fellow Survivor fans and welcome to yet another season of Survivor! This season is already starting off in my opinion very well and with this being a season where it has among other things a super fan on cast (John Cochran) and one of my favorite Survivors ever Coach Wade also on cast this should be a fun season to watch! In my humble opinion.

So with my opinion being stated let's jump right into some of my observations and thoughts from this past episode.



There Is Nothing To Fear But Fear Itself

During this episode were some moments when 3 cast members had to face insecurities stare them down then overcome. I will share my thoughts on their situations.


John Cochran

I think I may just like John Cochran this season and genuinely hope they will give the kid a shot. He is an unabashed super fan who admits to owning a buff collection and that his being there feels like some surreal dream. As a fan I hope the kid stays there a while. He makes me hearken back to Survivor Tocantins and to a young man cutting his game teeth as well as having to expand beyond his world to become a man..namely one Stephen Fishbach. I couldn't help but see some shades of Fishy in him. Plus am I mistaken or is the kid wearing Eliza's shirt from Vanuatu? Remember the pink shirt mom Orlens brought her on the set? Eliza's a bud so I am wondering if that is the same shirt and if so...that is yet another piece of All Star presence on the set!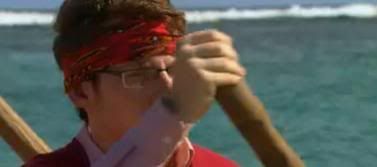 Now to Cochran. This kid is definitely a bundle of nerves and insecurities. From being self aware of his pale skin and how he must appear as opposed to the other more attractive, athletic cast members of the Savaii tribe. To being insecure about how to make his less athletic prowess not become a liability so he plans on bringing out humor to the tribe. Becoming the cast clown so as to speak. Keep them laughing so they like you enough to keep you around. He basically was a bundle of neuroses in moments.

But his shining moment for me, came when he realized that he was being targeted. His gamut of emotions ran from sheer heartbreak being that Ozzy was his idol to sheer anxiety to bringing some feisty character fighting for his game life at Tribal Council. Instead of allowing his worst fears to overwhelm him he rose up and pled his case.






In the end Cochran stayed and Semhar went. Though most first vote offs usually are the physically weakest, Cochran's feistiness as opposed to Semhar's alliance with Ozzy being a threat (as well as the fact that she showed herself rather weak during the Immunity Challenge) saved Cochran to fight another day and to allow us to possibly watch a kid grow and expand just as Stephen Fishbach did in Season 18. I think that will be enjoyable to watch. Don't count Cochran out quite yet.




Another moment when a cast member had to stare fear and weakness in the face was in the case of Dawn Meehan the lovely cast member from Utah.

In a moment that hearkened me back to Survivor Nicaragua a bit tho maybe not quite as dramatic as Holly Hoffman's yet echoes of it; Dawn Meehan had a weak moment of tears which showed how harsh those first initial days can be to a person. Fighting feelings of homesickness; doubt and deep fears, Dawn felt that she may not have it in her to compete. Which caused several of her tribe members to be very concerned about her. As she was undergoing this she was supported by Anthony Caruso as well as returnee Ozzy Lusth who consoled her and reassured her that she would be okay.





After a day or so of this Dawn managed to bounce back and regain her bearings. Yet afterwards she faced the fear that this moment of weakness may cost her the game. In the end it didn't. But I feel that like Holly did, she will bounce back and be a vital contributing member to the Savaii tribe.




Another cast member who also briefly stared insecurities and fear in the face and overcame it is my friend and favorite Coach Ben Wade.





Coming into the game was rather shaky for Coach Wade.






His reception was Christine Shields Markoski's terse
you will be gone first

As well as her making mockery of a Tai Chi move. To the welcome from the Upolu tribe being so icy that you could freeze a popsicle stick in seconds.

Not to mention losing the first challenge for a reward also.

It was pretty tough there for a few. But Coach said it himself well..that he would stare fear straight in the face and charm them all he could Dragon Slayer style.





Which Coach did and did amazingly. Coach this season is definitely more focused and has adapted his game. His social game is better plus as an unabashed leader already in life; he is handling the leadership of the Upolu Tribe very well. Getting the shelter prepared, already establishing an alliance with 4 other members.






One of which, Rick Nelson joked that his wife had told him when they learned that 2 former cast were returning:
serves you right if one of them is Coach!

How ironic that it was and even more ironic that he is now in an alliance with Coach Wade. Proof that Coach has adapted well that he could win Rick over, plus take the target off his back.

Coach Wade is definitely more solid this season and if my sensors are correct he will go deep into the game this time. As after all three times the charm!

In the end all 3 stared their worst fears straight in the face. Built resolve and conquered them.




Brandon Hantz aka Russell Hantz's Nephew

This season is a first and a bit controversial among some fans in that on the cast is the nephew of the 3 time Survivor dominator Russell Hantz. Brandon appears as different as Russell from night to day and that appears to be his strategy going into the game. What's ironic is as the copter was hovering, Edna happened to state to Brandon
I hope one isn't Russell Hantz
which I know for Brandon would have been pretty uncomfortable. Brandon stated in a pre game interview that he was not initially going to let anyone know his last name but instead use a different one. Personally I don't think that's a smart idea.

Honestly if I were aligned already to someone and I were to learn they had misled me on something I would have problems trusting that person. Were he to stay as far as the family visit how is he going to explain who Russell is to him? It could work out true but my feeling is at some point when the truth does reveal itself..that it may work against him. For one..his current ally Coach Wade I seriously doubt will trust him plus I also think Sophie won't as well. In fact Sophie is already sensing something as it is.







I think Brandon has a good heart and I like the fact that he is standing for God. But Brandon I do feel made a mistake when he chose to not reveal that he is Russell's nephew. We shall see how it goes.



Ozzy Lusth is back for yet another season and from the outside looking in it appears it is business as usual with Ozzy. Still a demon at challenges and still employing the alliance with an attractive girl strategy.

This season Ozzy seems to have amped the social part of his game up quite a bit. From the outside looking in I feel he is trying too hard on it. He seems to relish being back though but as a tribe leader he seems to be floating and not as focused on the more mundane issues like shelter and survival. Which if the tribe is struggling there it can cause them to not be as solid.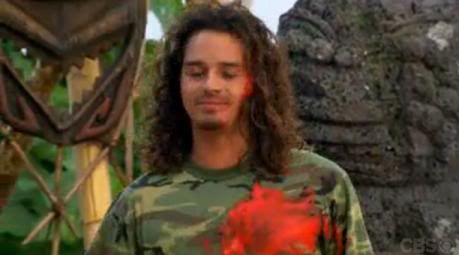 Ozzy is instead preferring to romp instead of getting down to business. I think this decision may have been a factor in their immunity loss actually as Upolu the more survival steady tribe seemed more focused and on target during the challenge. Savii did not appear as cohesive.






My advice to Ozzy is to embrace the leadership directly and try to build a more cohesive tribe and focus less on eye candy and blend the social in with your leadership responsibilities. Winning challenges rock but to win takes a tribe that is solid and not floundering to do so.





Well that pretty much hits the high points of this 90 minute episode. Congrats to Upolu on a deserved immunity win. Coach you slayed them with your comeback and whatta comeback! Looking for some good stuff from Cochran, Sophie, Albert, Rick and more from Whitney, Dawn and Papa Bear as well! It's gonna be an amazing season!


Til next time..keep your torch lights lit and enjoy the next episode of Survivor South Pacific!




When you have a second and if you haven't already please LIKE the pages below. Hope to see you there!!!

Benjamin Coach Wade Fan Club

Promote Your Page Too
Survivor Cast Members in feature film 180
Promote Your Page Too
180 Film
Promote Your Page Too
Official Rita Verreos Fan Page
Promote Your Page Too
Billy Garcia Survivor Cook Islands
Promote Your Page Too
Brenda Porter's Survivor Page
Promote Your Page Too